Hello, this is Mami. Japan is the largest character country. The famous characters including Hello Kitty and Kumamon and so on has been known globally. Why? There are so many characters here.
Japanese people tend to express something as one character. Among Japanese local authority, making the characters which have the feature of the local area was trend last 4,5 year.
Even today, new characters are created. Today, I introduce the popular characters in SUPER DELIVERY.
Introduction of Japanese Unique Characters
Higemanjyu
Higemanjyu is the cat character with the Japanese traditional atmosphere from Amuse. The round body and the relaxed face are very adorable.
Especially, the tortoiseshell cat named Mi-sama is popular!
<<< See More >>>
Okaeri Sonoda-kun
Sonoda-kun, a character with a face looks like emoticon. The concept of welcoming when you come home. Recently, it is popular not only for women but also for men!
If he waits in house like this, I guess that you must be surely healed up. When you are lonely alone, he stays together.
His items are very popular for those who have cats! Sonoda-kun is a big success as a cat's cushion in the picture. If you give a cushion of him your cat, the cat seems to be delighted as well!
The fans have also increased for foreign people gradually! Beyond the border, Sonoda -kun attract the attention and works well!
<<< See More >>>
Mameshiba Sankyodai
There are many Mameshiba(Small Shiba Inu)'s characters, but the most popular one is Mameshiba Sankyodai (Three brothers) from Amuse.
Like the photos of this instagram, there are the fan who are crazy about it, and collect the items.
Since the lineup of Mameshiba Sankyodai's goods is very abundant, you cannot collected enough to collect it!
Originally, Mameshiba Sankyodai were arcade game goods. Since that, the popularity has spreaded from time to time gradually. Even now I see a lot of them in arcades such as Akihabara and Shibuya.
Shiba inu is sleeping very comfortably lol It would be perfect to give a gift for your Shiba Inu!
<<< See More >>>
GOROGORO NYANSUKE
A cat character put suspender on his head, GOROGORO NYANSUKE from MIND WAVE. Worried look is surreal! There is also a LINE stamp!
Stickers of GOROGORO NYANSUKE. Very pretty cute! I want to attach them to accessories around me.
If I pasted them in notepad or something, it looks like he is moving in the inside memo. lol
<<< See More >>>
Shibanban
He is also from MIND WAVE, the character of Shiba Inu, Shibanban. The face is real Shibainu's expression, don't you feel that?
<<< See More >>>
Actually, both GOROGORO NYANSUKE and Shibanban are created by the same illustrator, Yasuteru ogoshi.
He is popular enough to be able to hold signing sessions at Japanese major retailer, LOFT! That is supposed to be, he generated the other popular character of MIND WAVE and a number of hits. We cannot miss his work in the future too.
<<< See More >>>
Wankodo
Kyoto's black Shibainu's character, Wankodo. Collaboration with characters in various regions.
He is also very popular among those keeping Shiba Inu, and a lot of people enjoy with dogs like the picture above.
<<< See More >>>
Okazaemon
From Aichi prefecture, one of the most popular characters, Okazaemon. It was an informal local character as well as Funassyi. However, as it gets more and more popular, he is also called by many official local events. He has become a local icon there enough.
<<< See More >>>
Finally
What do you think about Japanese characters? There are more unique ones here and new one is coming up! So, from now on too, don't miss Japanese characters!
We also manage the feature collection! Check it together!
What's SUPER DELIVERY?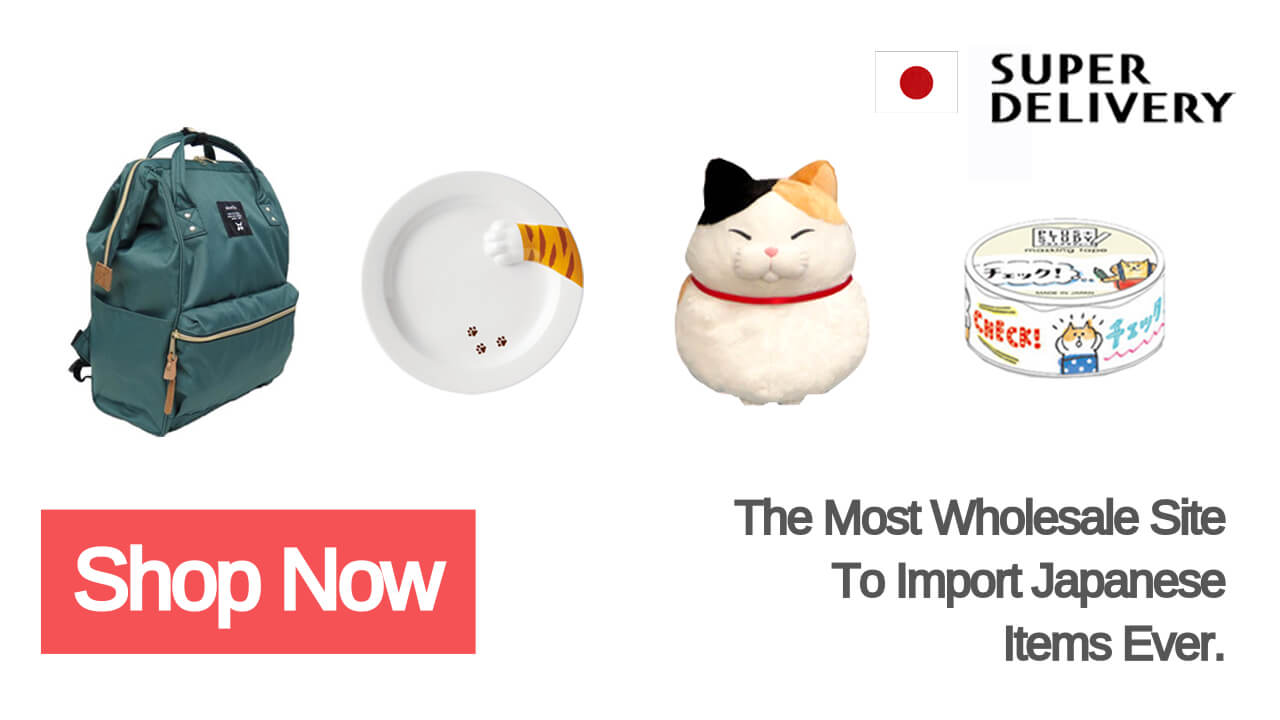 SUPER DELIVERY is a Japanese largest wholesale e-market place. Import high quality and design products from Japan shortly!
Sign Up Here