Hello, this is Mami! How's it going?
Today, I visited a hugely popular manufacturer "Amuse, Inc." around the world, dealing with animal plushies and the character items with the Kaz.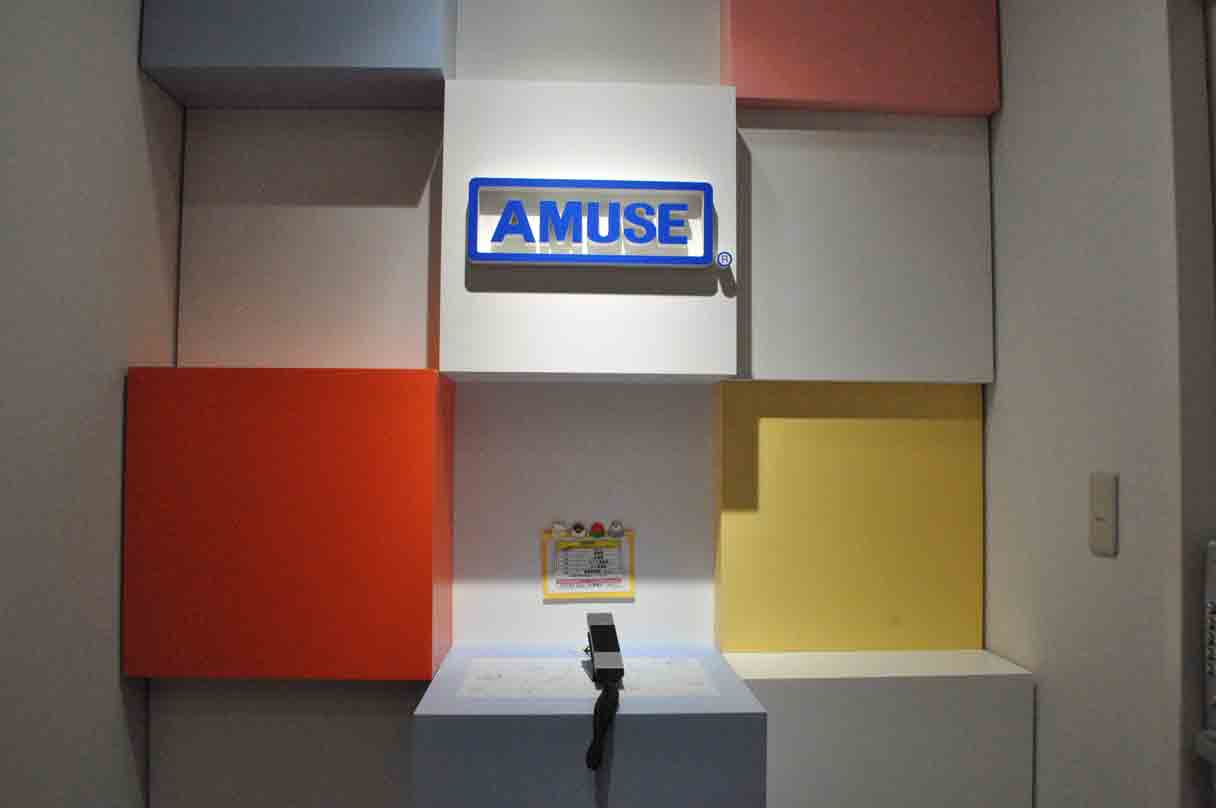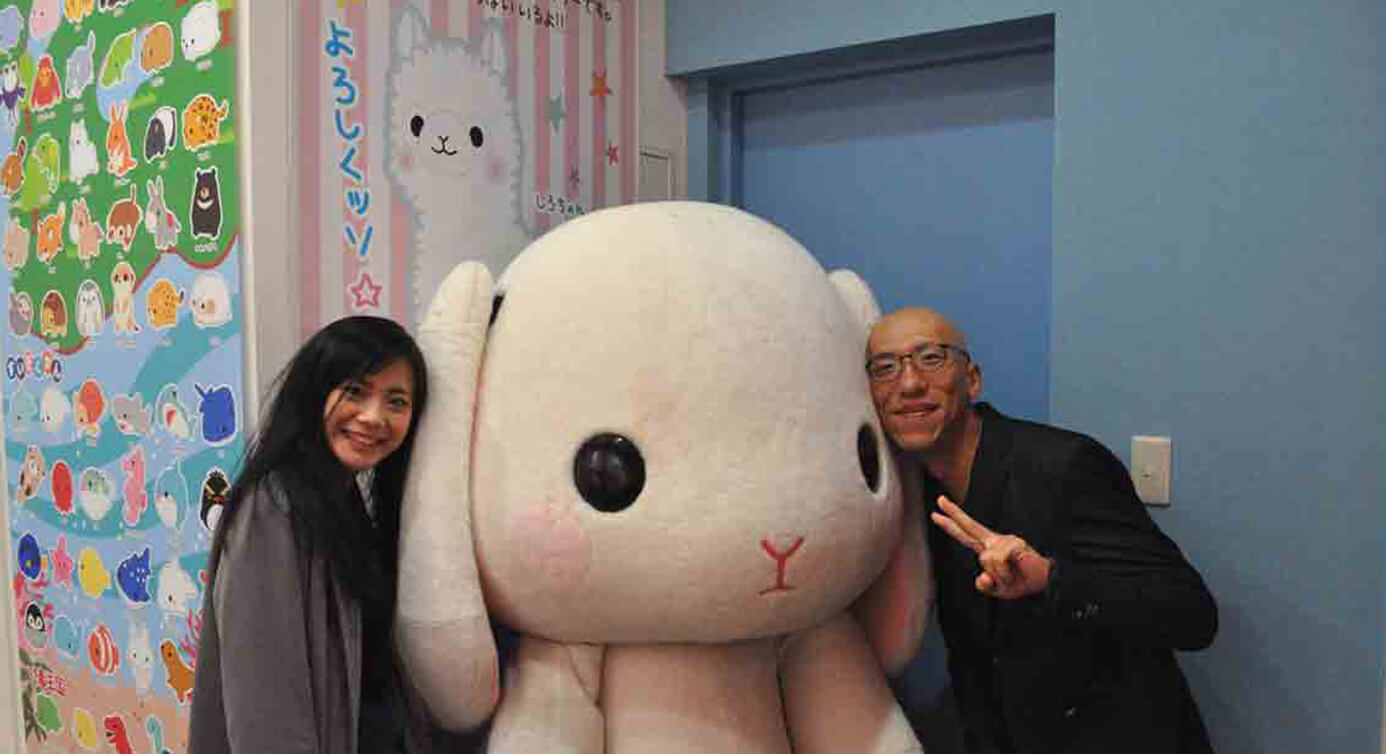 Poteusa Loppy welcomed us at the entrance!
What's Amuse?
Company Profile
Amuse, Inc. based in Tokyo, was founded in 1990, and mainly engaged in the planning, development and manufacture the products to be placed in crane games, sales of products, operation of amusement facilities.
Recently, they have also been focusing on product development, variety of goods, such as rucksacks, bags, cushions and other daily accessories and interiors other than for crane games, that would be plentiful.
History
In the late 1980 's, plushies became prizes of crane games, and from the background that the existing arcade game was about to decline, manufacturers began making new type crane game machines so that they were likely to compete with.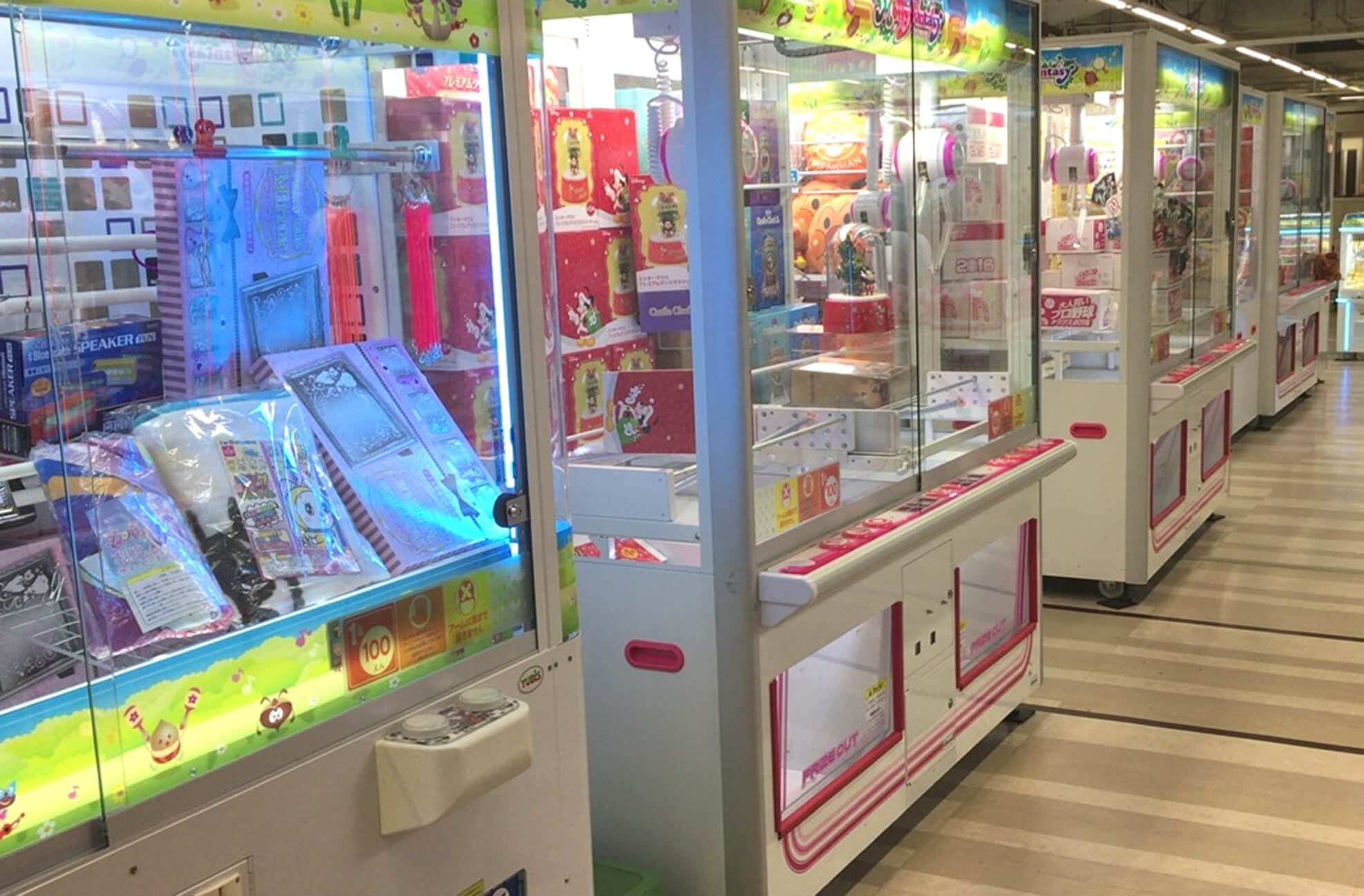 In this era, there was no crane gaming dedicated items, so there was a necessity to plan and develop products dedicated to it. Amuse was born on this occasion. After the arrival of the crane game boom in the first half of the 1990s, as the times have progressed, the popularity of crane games has increased to the point where now, there are hardly any Japanese people who have never played a crane game before.
Crane game's Competition is now intensifying, but Amuse's plushies are proud of the huge popularity among them.
They especially showed us their showroom is used for business talks this time! Here we go!
Showroom
From old works to new ones... Showroom filled with history of Amuse.
It is an awesome place for those who love animals, plushies!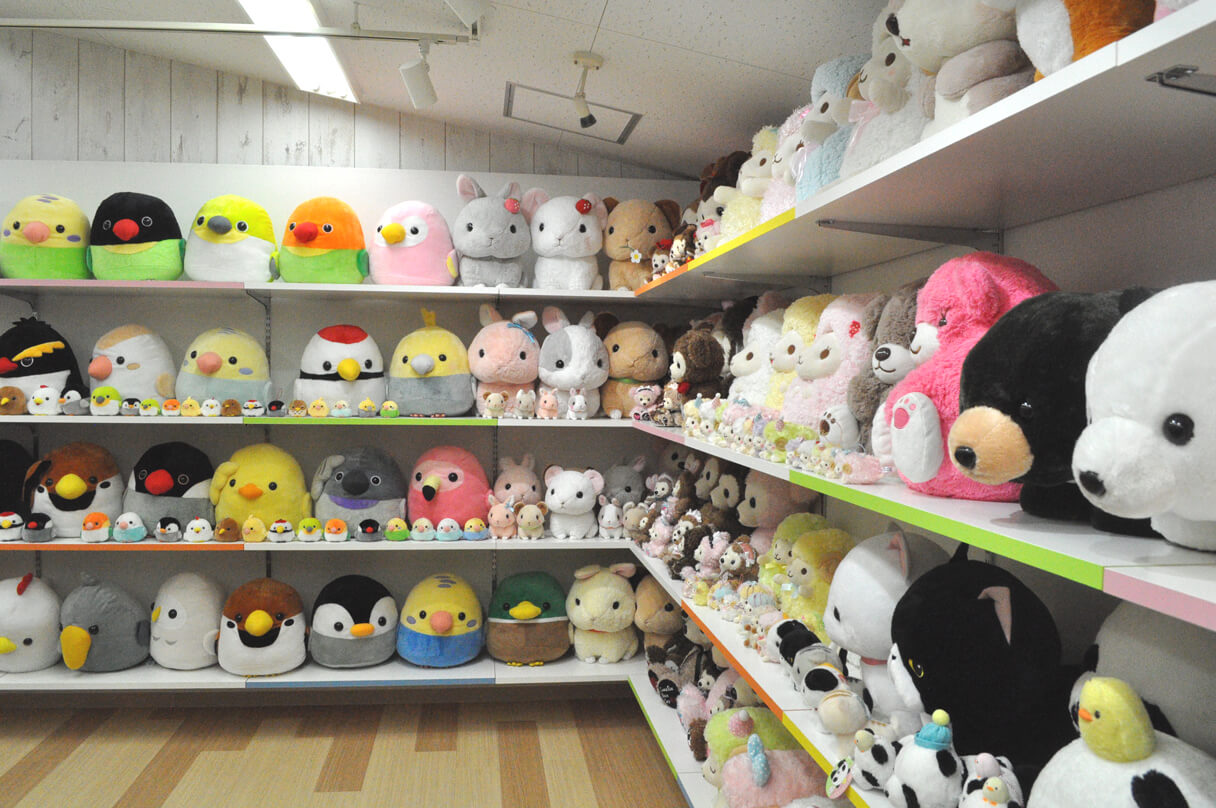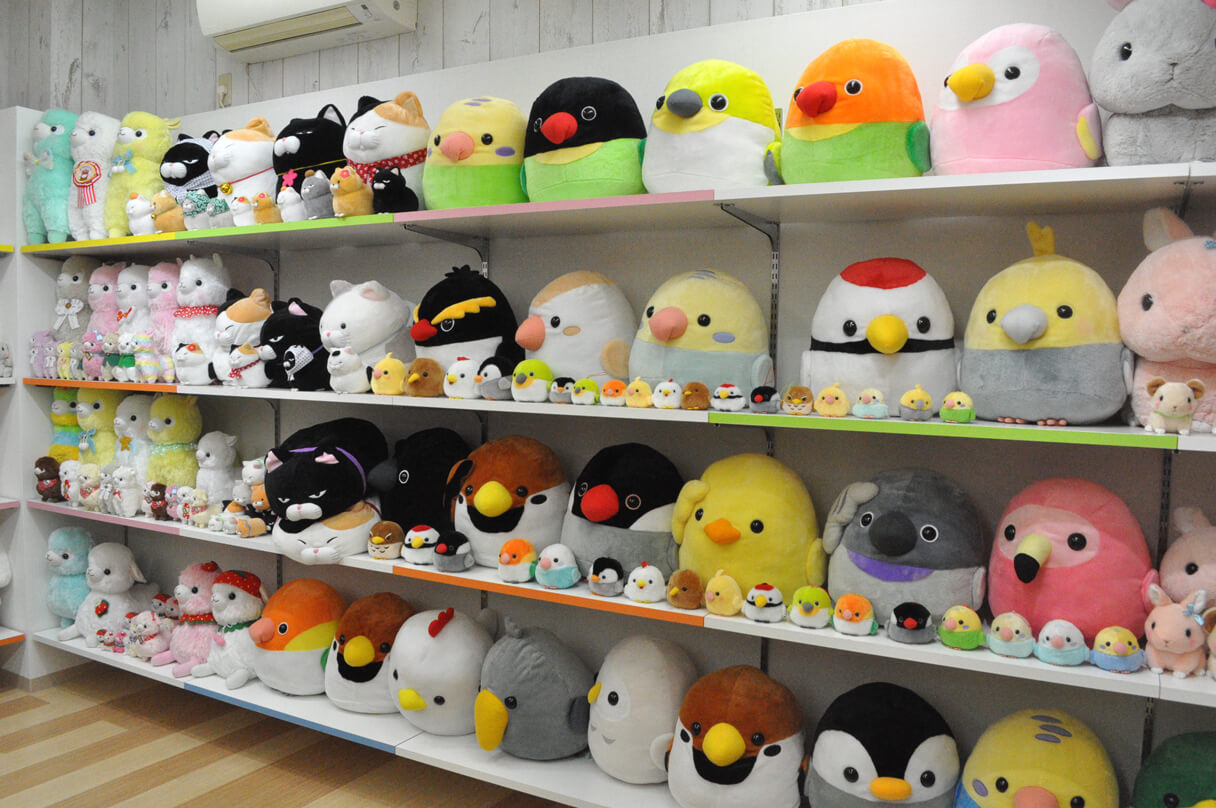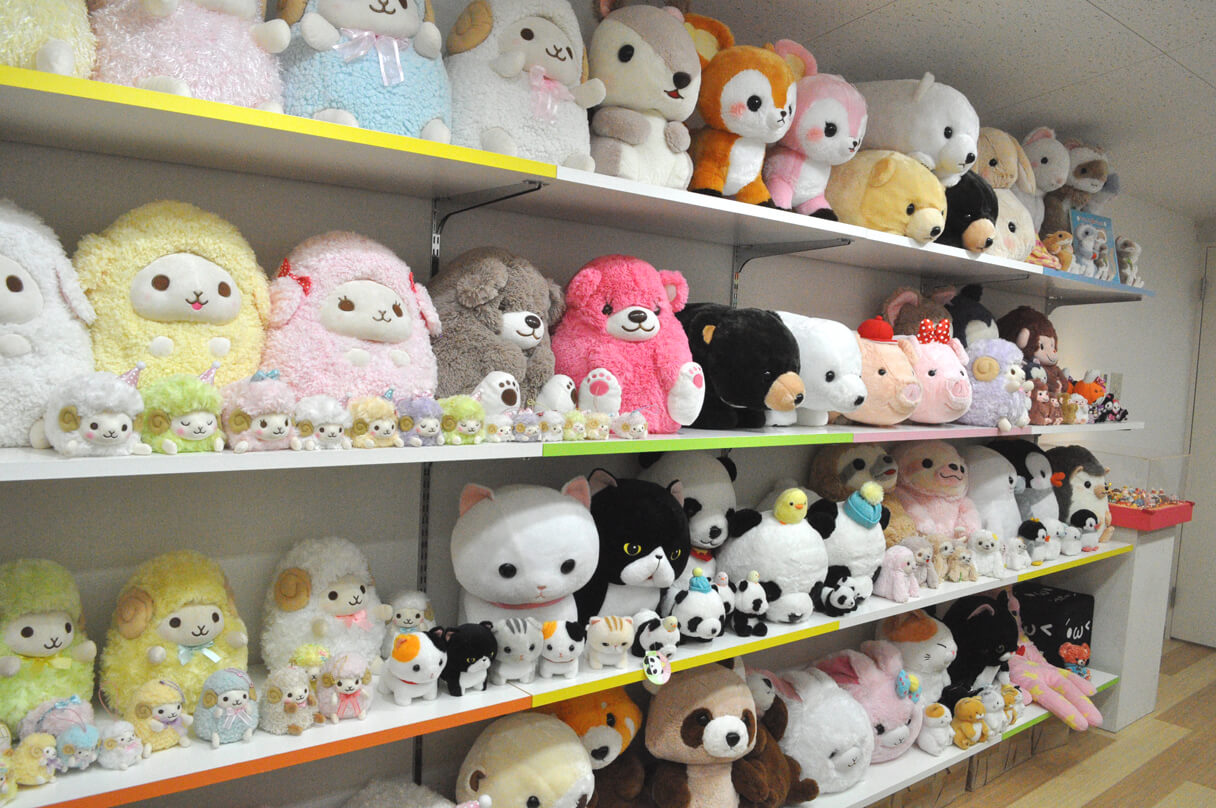 Three Attractive Points of Amuse
Here I would like to introduce the three attractions of Amuse.
1. Cuteness of Characters
The character designs are just so cute! From the know-how of product development of crane games for many years, they have been familiar with eye-catching of the products, and done marketing well. The characters they turn into products are the ones that have been the most carefully thought out and have gone through a strict selection process.
2. Fluffy Touch
I think that you can understand when you actually touch them, you can feel them pretty fluffy. Since they have a strong commitment to hair material and length, they have realized a pleasant embracing. When you hug them, you can feel the same joyful feeling of hugging a pet.
3. Abundance of Characters
Alpacas, dogs, cats, rabbits, hamsters, parakeets, etc, there are abundant characters related to popular animals. Especially, I will introduce popular characters.
Introduction of Popular Characters
AlPacasso
Popular alpacas sold in 13 countries around the world. Among them, rainbow color series are popular!
Higemanjyu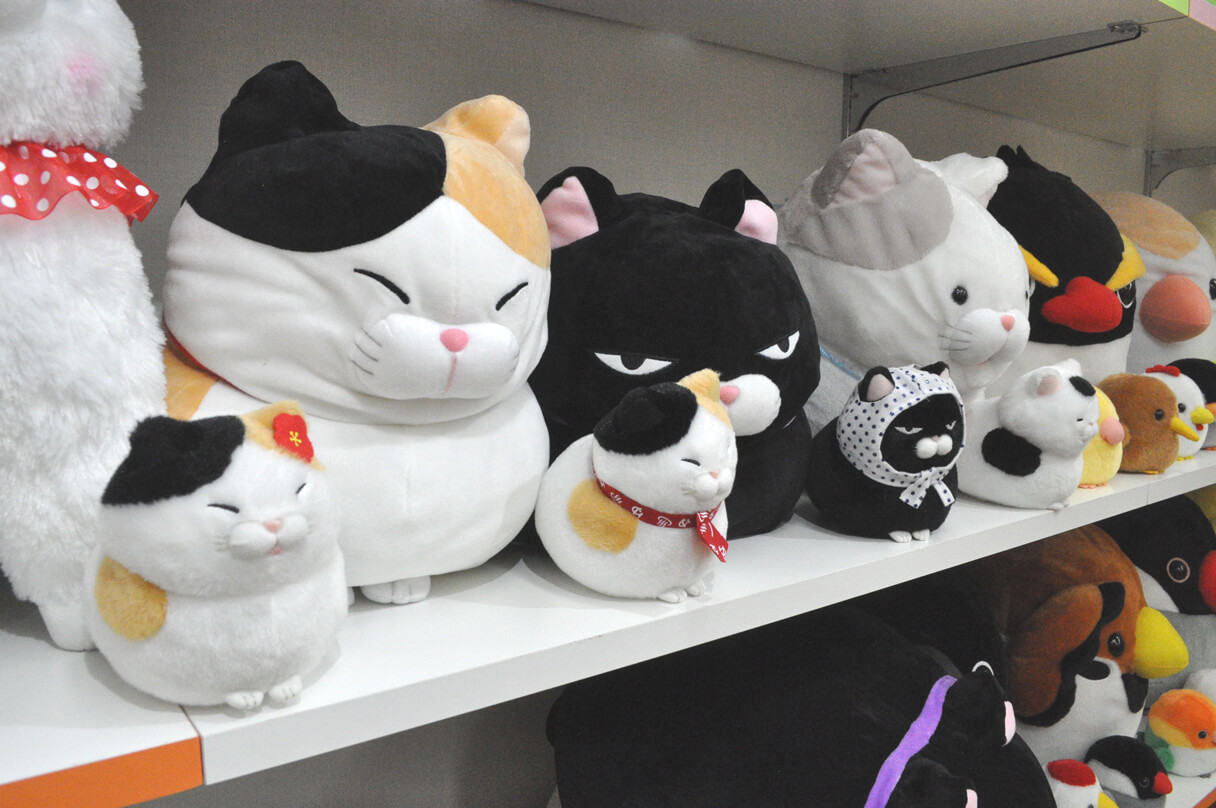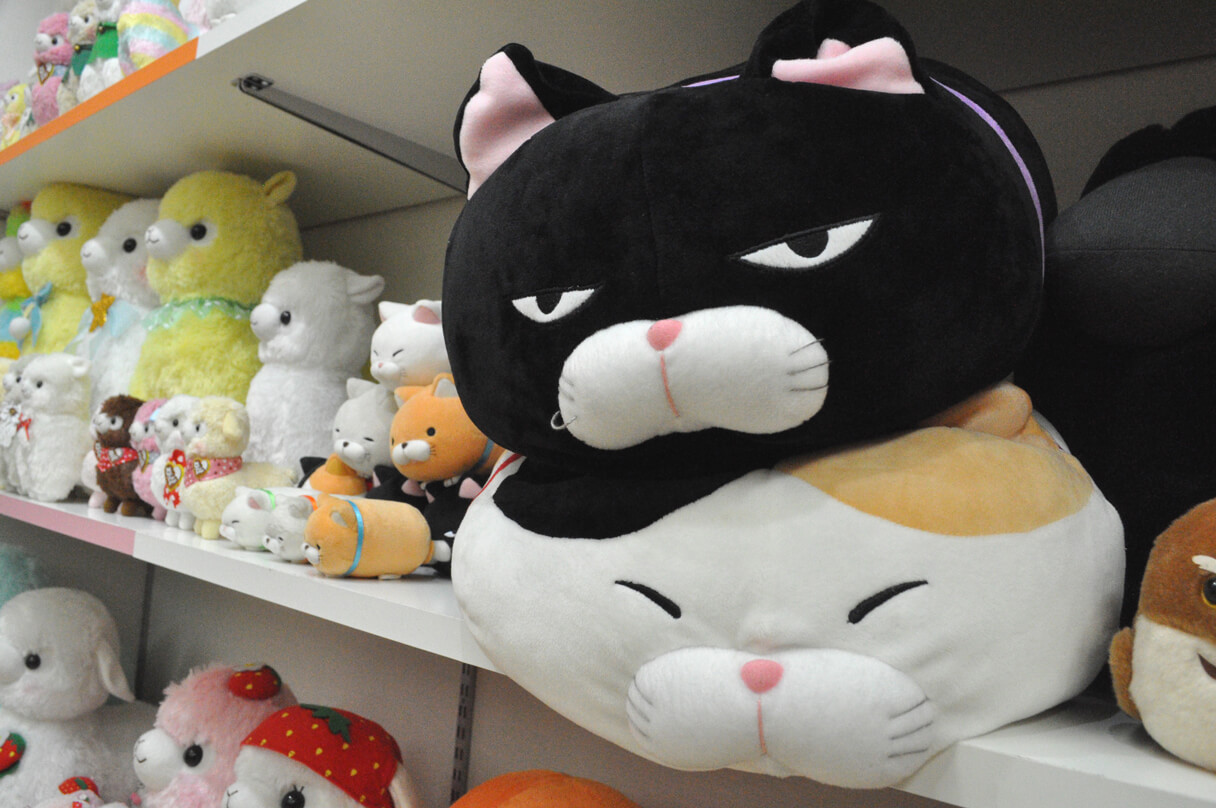 Cute cats look like Manju (Traditional Japanese confection).
The expression on his face that can't be explained in words and the roundness of it will heal you!
Apparently, "Higemanju" is the fluffy beard that grows around the mouth of a cat. (・ω・)
Due to Japanese design & healing taste, they are very popular among men and women of all ages in Japan and abroad after their appearance!
MAMESHIBA SANKYODAI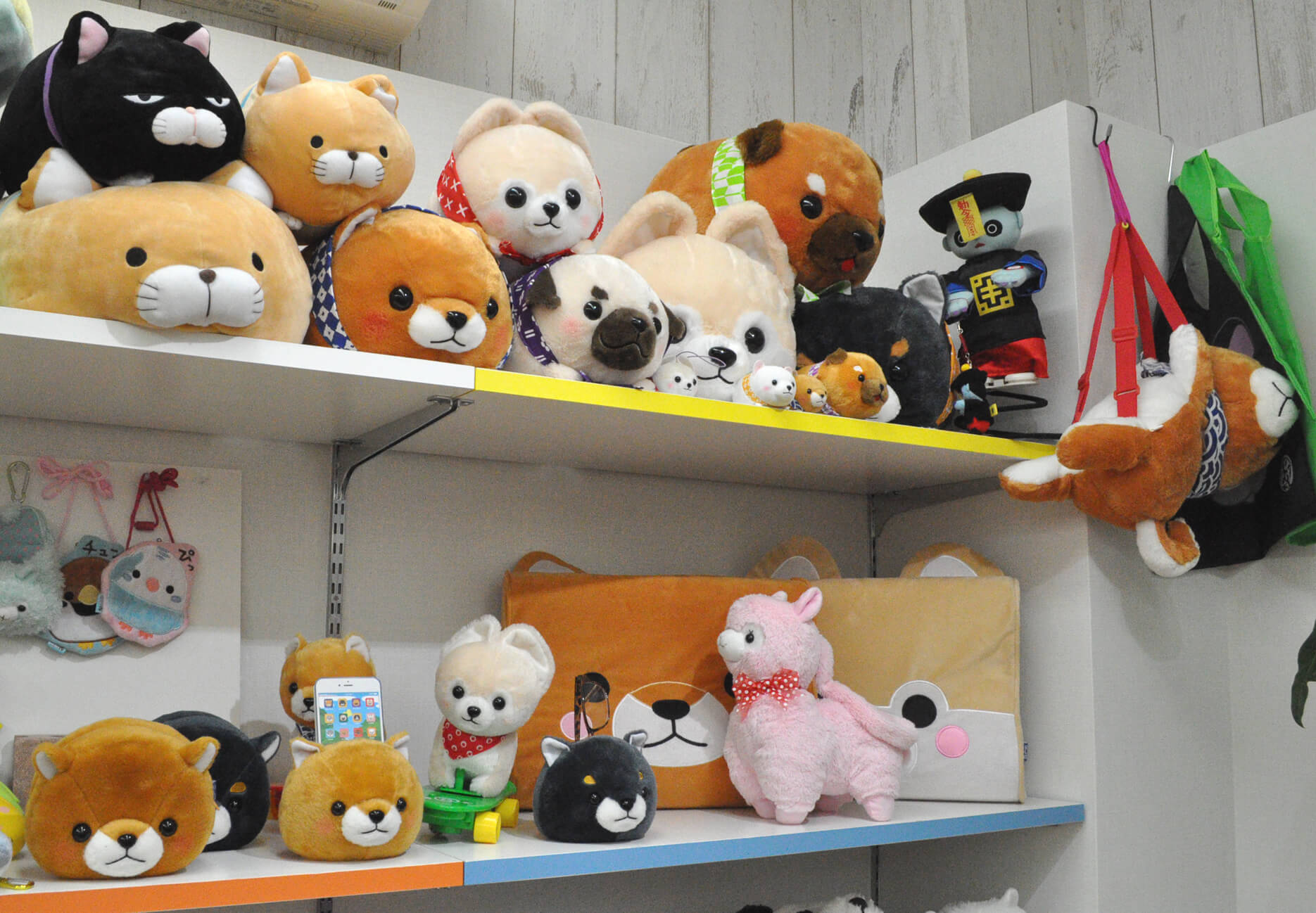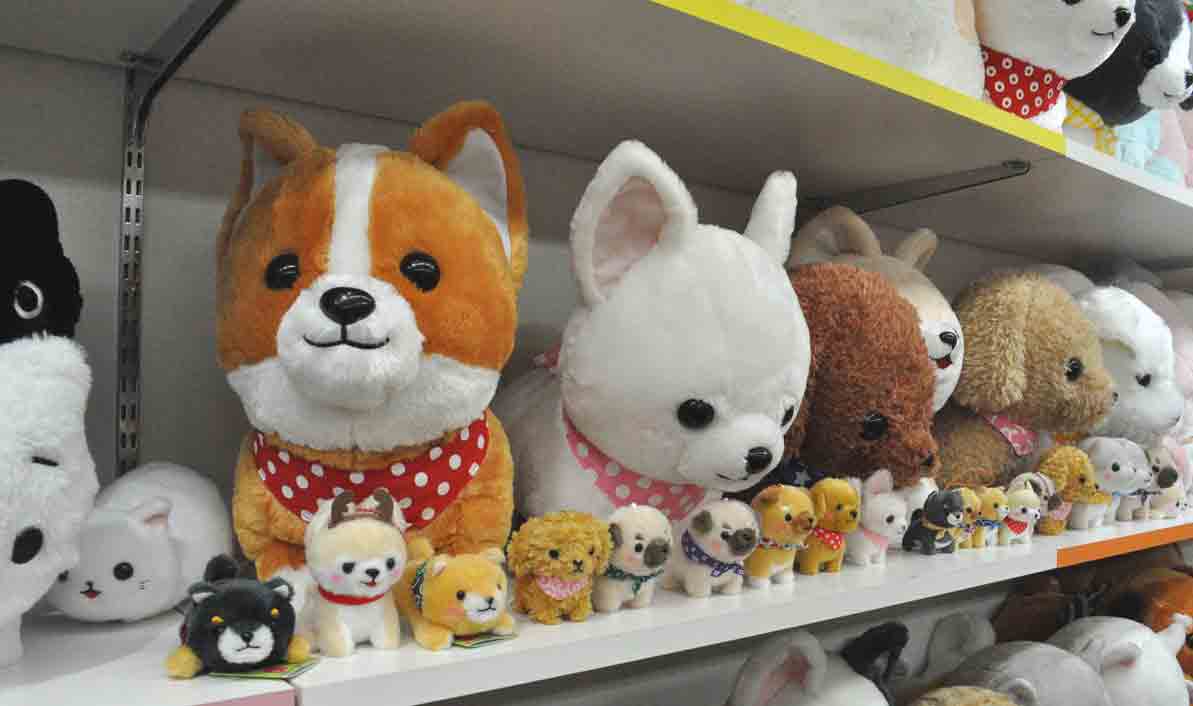 The three brothers of Shiba Inu. There are Mametaro, Mamejiro, Mamesaburo, occasionally Sasuke and Pug-hei. Brothers who can't help but love Japan carry their luggage and go on a journey.
Poteusa Loppy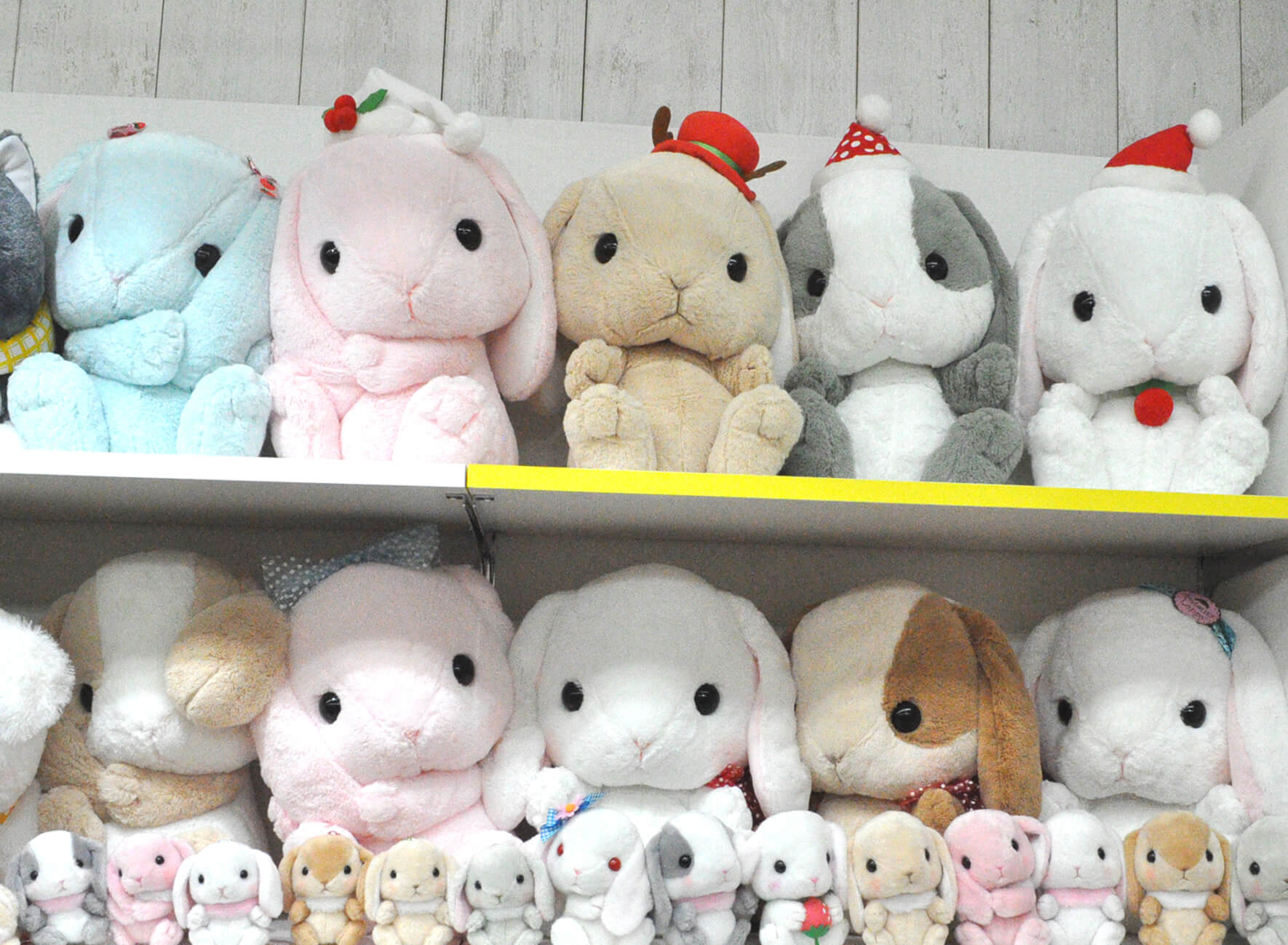 The high road of cuteness! They are lop eared rabbit with its rounded chin, red cheeks, and big round eyes. Among them, the backpack is very popular!
Namakemono(Sloth) no Mikke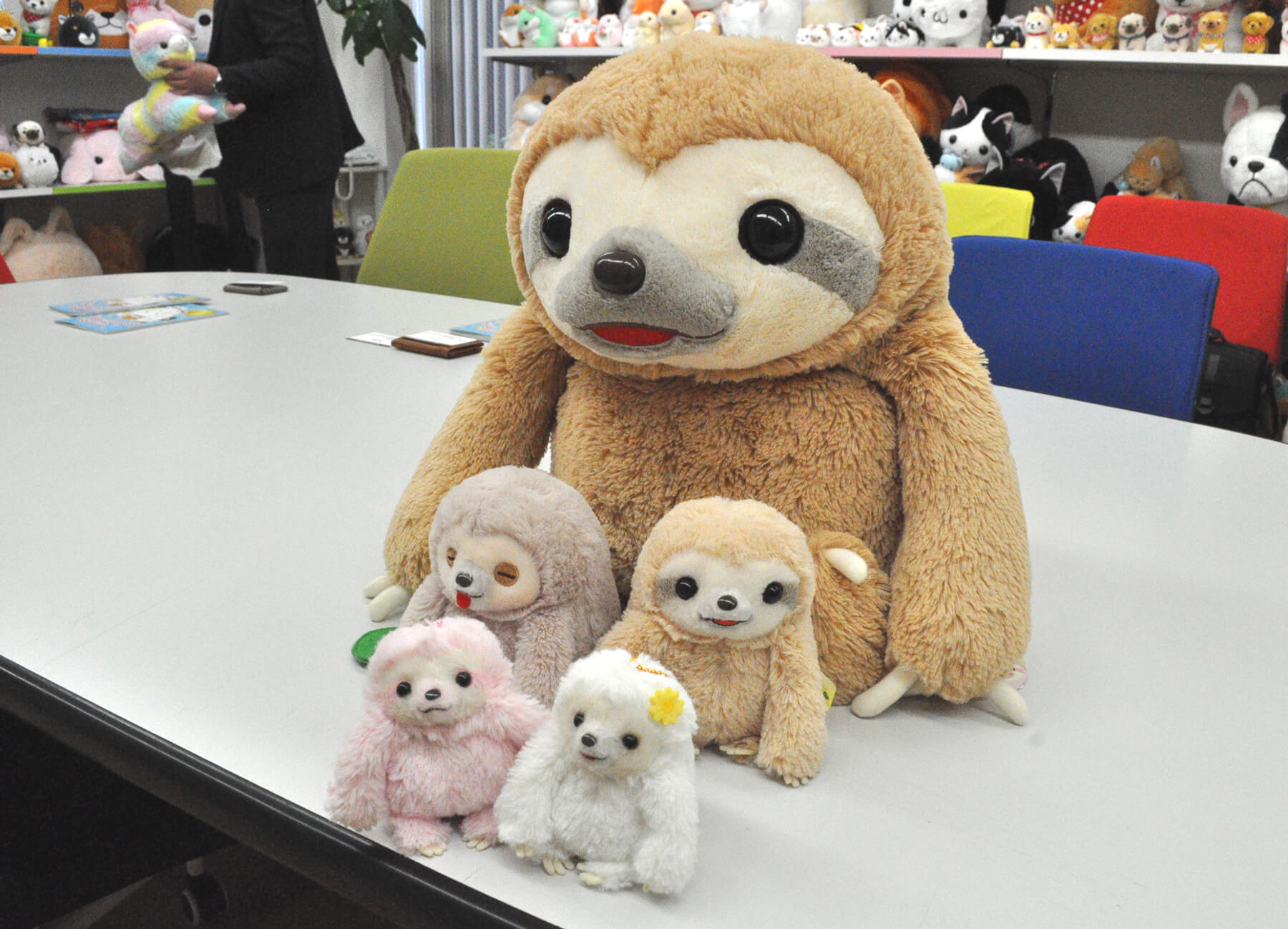 While there are not many human-type characters, it is unique and sleepy-looking sloth lazes. Actually, people say that sloths are very popular animals all around the world!
Summary
That's all for the interview of Amuse. It was a great learning experience for me, as I learned that Amuse always tries to create the cutest products. When creating a blog, I felt that they are the one of the wonderful company making products to make people happy once again.
There seem to be a lot of knock-offs of their products being circulated around the world, but nothing beats Amuse's products in terms of actual cuteness and texture. In addition, Amuse directly has sold to retail stores in SUPER DELIVERY we run, so you can purchase with confidence.
It is difficult to explain its charm easily only with the Internet, but if you have the opportunity, I would like you to confirm the real things with your own eyes once!
> Go to Amuse's Page
What's SUPER DELIVERY?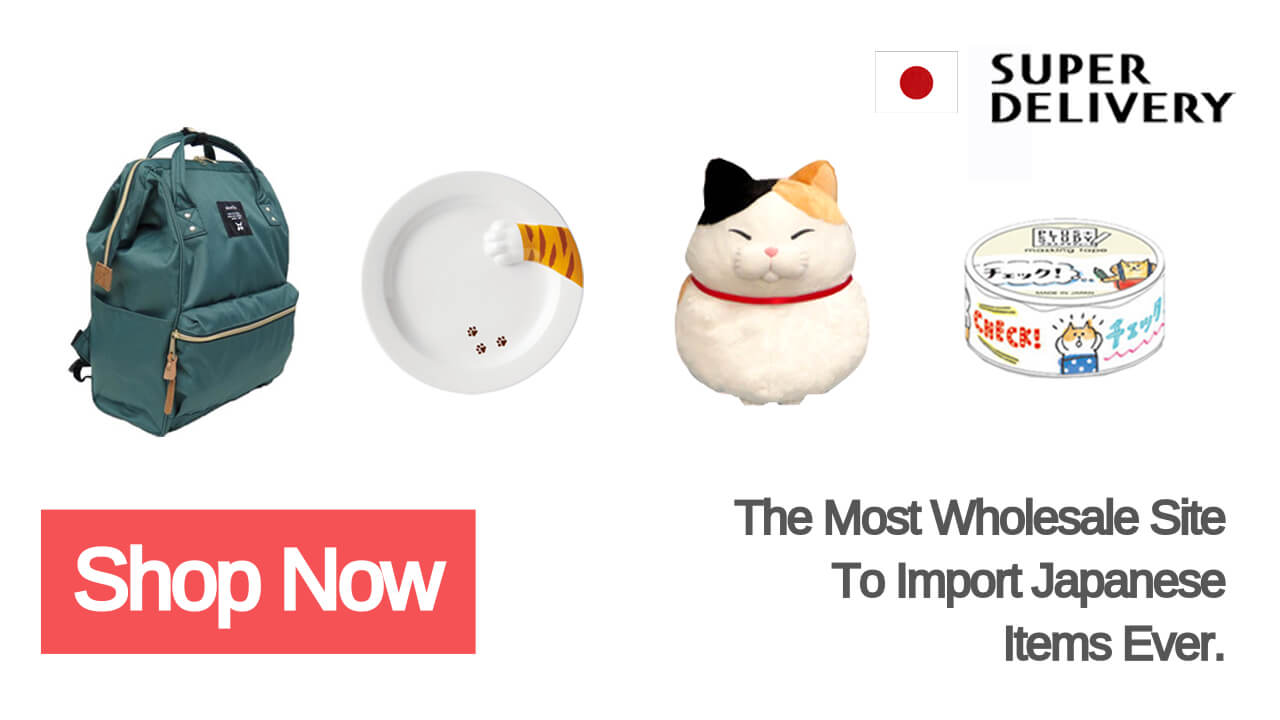 SUPER DELIVERY is a Japanese largest wholesale e-market place. Import high quality and design products from Japan shortly!
Sign Up Here