Hello! I'm tommy. This theme is about the evolving Japanese stationery.
The Japanese do love Kaizen. Stationery which became standard have also constantly evolved Kaizen repeatedly.
I will introduce the latest items from such stationery.
Ballpoint pen
A smooth and comfortable pen bound to make writing a habit "JETSTREAM"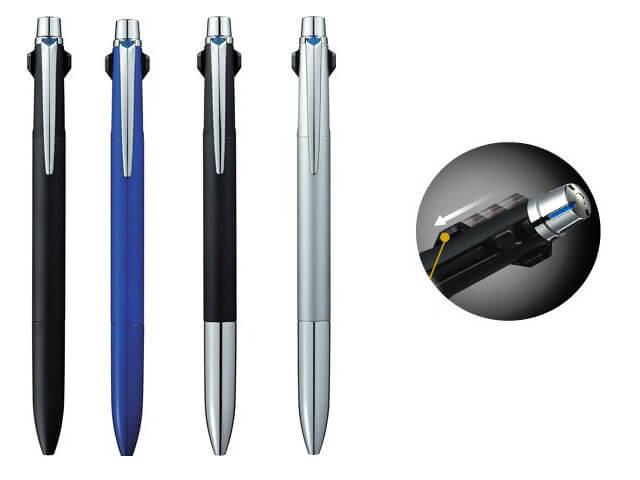 "JETSTREAM" series which was released in 2006. While the appearance of this ballpoint pen might seem ordinary, easy to find anywhere, if you write with it you will be surprised at its smoothness. Once you start writing, you will not be able to put it down.
The secret to a smooth pen is a specialty ink chosen from a blend of 10,000 varieties of ink. This sense of detailed writing is certainly a product of refined Japanese-style.
This time, we introduce "JETSTREAM PRIME" which is easy to use even in the business scene which launched in 2013. Because of the quiet knocking sound, this pen is perfect for the atmosphere of business meetings. This pen is part of a popular series with new colors released in 2016. It would be the perfect for gifts.
Mechanical pencil
The ultimate mechanical pencil "KURU TOGA PIPE SLIDE"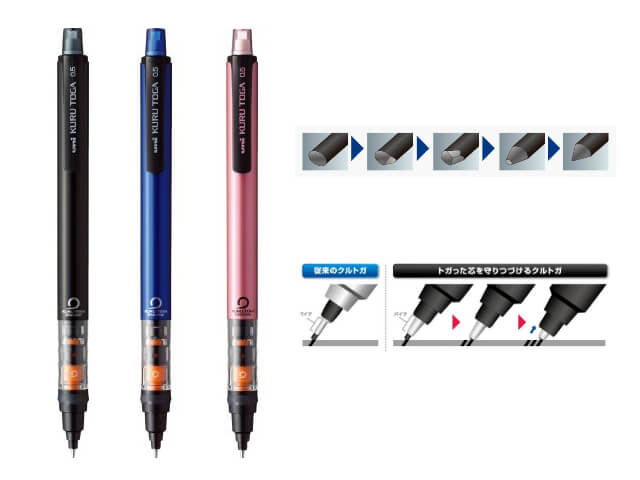 Mechanical pencil is also the one of the genre that has continued to evolve. There have been two major types of mechanical pencils, one with a function that protect a lead and less likely to break, such as Penteru's "Orenzu", or ZEBRA's "Delgado". The other type is the auto lead rotation model such as Mitsubishi Pencil's(Uni) "KURU TOGA" series.
Meanwhile, in 2015 KURU TOGA released the "KURU TOGA PIPE SLIDE" series and finally created a union between to two types with a lead rotation and does not easily break. This is the definitive model in an evolutionary line of mechanical pencils.
Staples
No needle and hole Staples "Harinacs Press"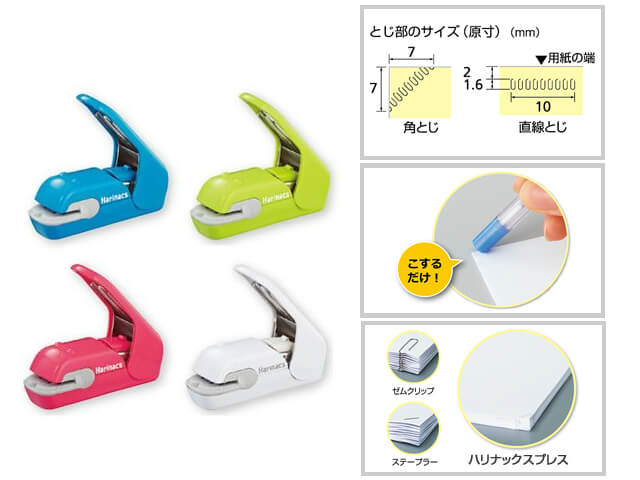 "Harinacs" by KOKUYO, is a staple-less stapler, which binds paper without the use of staples was released in 2009 and was quite the surprise.
But the latest model "Harinacs Press" ,released in 2014, binds paper by pressure without even making holes.
Furthermore, there is a surprising function that it slides the paper back to its original form. With the release of a series of smaller and lighter weight staple-less staplers, the evolution of this field is not something to be overlooked.
Sticky Notes
Since the original sticky note's release from 3M in 1980, many variations have been released in Japan.
Ring-type sticky note "RING-IT"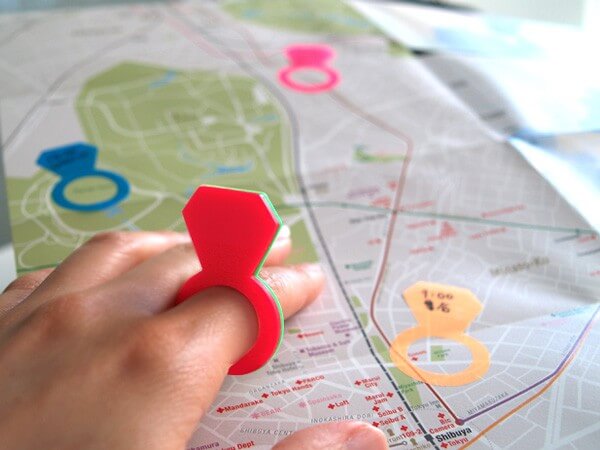 Firstly, I will introduce a ring-type sticky note "RING-IT". This new type of sticky note that attaches to your fingers so you can carry it around. Are sticky notes now a type of accessory?
Seems so real you might just eat it "Sticky notes seaweed"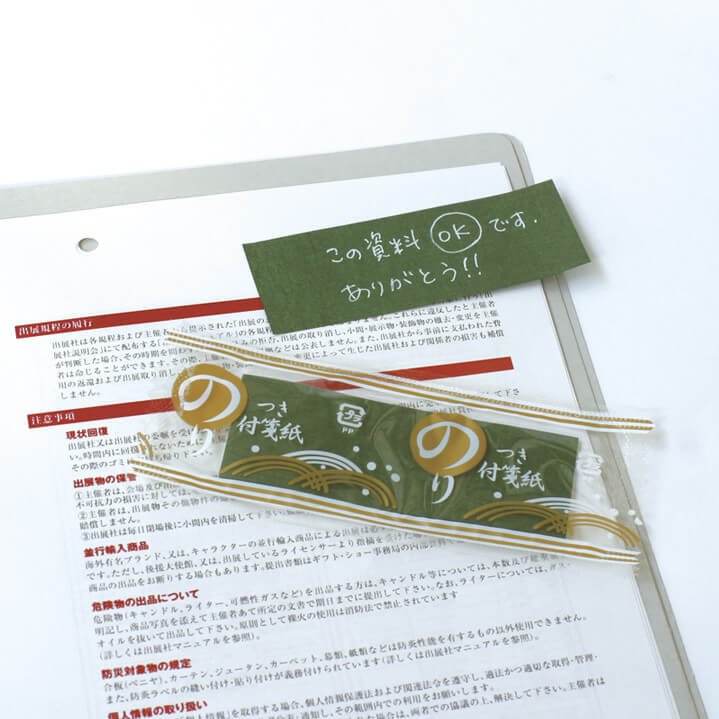 Up next, a sticky note made to look like the "seaweed" you will find in a Japanese breakfast. Its practicality is…Well, at least we can recommend this as one of those crazy Japan's souvenirs.
Origami
Origami that becomes a national flag when you fold it in a crane "Orizuru"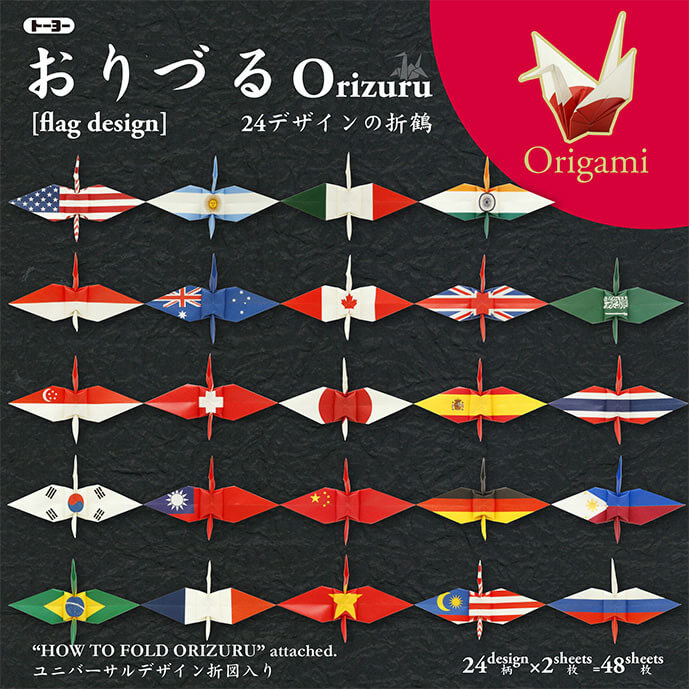 Origami, Japan culture also has been evolved. Today item is origami that becomes a national flag of each country by folding it into cranes. There are designs for 24 countries and a "HOW TO FOLD ORIZURU " included so everyone can learn to fold. It seems that more attention will be paid to this in the future as a product that connected Japanese culture and the world.
Summary
What do you think about that? Japanese stationery have continued to evolve with Kaizen technology. New stationery will be developed and continue to surprise us.