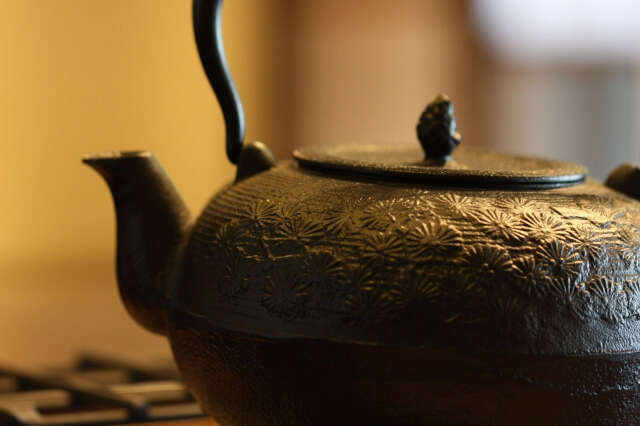 Hi, this is Mami. Have you ever heard Nambu Tekki? It is very famous and popular Japanese traditional craft. The iron products manufactured in Iwate, Japan are called so.
Today, we are going to introduce the attractive points of Iron ware.
What's Nambu Tekki
In the mid 17th century, a tea kettle made by a craftsman of Kyoto in Morioka, Iwate is said to be the beginning of the Nambu tekki.
Why is Morioka? Morioka has plenty of high quality iron resources such as sand iron and rock iron and the materials such as river sand and clay, lacquer. Morioka has had a land conditions which is suitable for the foundry industry to develop.
In February 1975, it was designated as a traditional craft of the Japan.
Recently, a colorful and fashionable modern ones have appeared, and attracted attention both in Japan and abroad. I will show you the wonderful sides of Nambu tekki!
Strength of Nambu tekki
Intake Iron To Prevent Anemia
It is said that you can ingest a lot of iron by using it.
It is said that you can take iron by about 30% more than when using conventional stainless steel pan.
It can probably be improved the short of iron in modern eating habit by cooking with iron pot.
Change Taste
When boiling hot water with a used iron bottle well, the taste becomes soft and tasty.
It is said that Nambu tekki will not come out the iron smell in hot water so much due to special process which is not found in the ironware of other production areas.
Boiled water made with iron kettle is also recommended as a drink that will balance the body even in Ayurveda, a traditional medicine originating in India.
It is said that you can feel "sweetness" while drinking if you keep to drink it.
Prevent Burning
As a feature of Nambu tekki, it has very fine irregularities on the surface.
Because oil will soak in here, and further overheated air enters, that's why it prevents burning.
Prevent Getting Cold
It has 1.5 times longer heat than aluminum pot and has higher thermal conductivity than stainless steel.
It boils faster than boiling hot water with stainless steel kettle.
Presence as an interior
The strong presence of iron is attractive as an interior of the room.
How To Use Iron Ware?
Nambu Tekki can be use for various situation. Let's see the cases!
For Tea
For Food
For Camp
Let's See Real Nambutekki!
First of all, it is the important that you check the real one. Have you ever seen the real one? It is far a little, but you can check the real Nambutekki at the fashionable space.
Attention
Nambu tekki has many attractive points, but if you make a mistake in handling it will take time and effort.
Please handle and wash as soon as possible and dry. If food is kept for a long time inside, it will rust and the food in it will turn black.
In addition, leaving the water make the boiled water muddy in reddish brown or it becomes oil-like glittery on the surface, so the maintenance will be needed.
Finally
What is a product that enriches my life? When you think about that, Nambu tekki will be mentioned as one example.
It is such a product that can be conscious of treating health aspects and things.
Let's use the things you can use for a long time.
There are also some handling in SUPER DELIVERY, take a look!
<<< See More Nambu Tekki >>>