Hello, this is Mami.
When it comes to anello, it has gotten highly popular among high school girls and moms because of its high functionality and convenience such as the mouth of bag which can be opened widely and stand easily by itself.
It is no exaggeration to say that it is a bag brand which has taken the world by storm.
Now, what kind of items evolved has been released so far? Since I received a recent popular samples, we reviewed it!
What's anello?
"created to improve life. good for all seasons."
Originally born in 2005, anello® means "Growth ring" in Italian. they developed their products based on the motto "Try to create better ones along with passing time like growth ring!"
With the concept "Do not care too much, but there are some charm points, many people can feel to want anello intuitively", they aim for production which think outside the box with fashion / sex / age.
In 2015 and 2016, anello were suddenly popularized worldwide. Currently, they have grown as a global brand, and loyal users have increased around the world.
Now Types of anello Bags
What items have been coming up and getting popular from such anello? What is the difference from the conventional metal clasp's one?
Polyester Twill Multifunction Backpack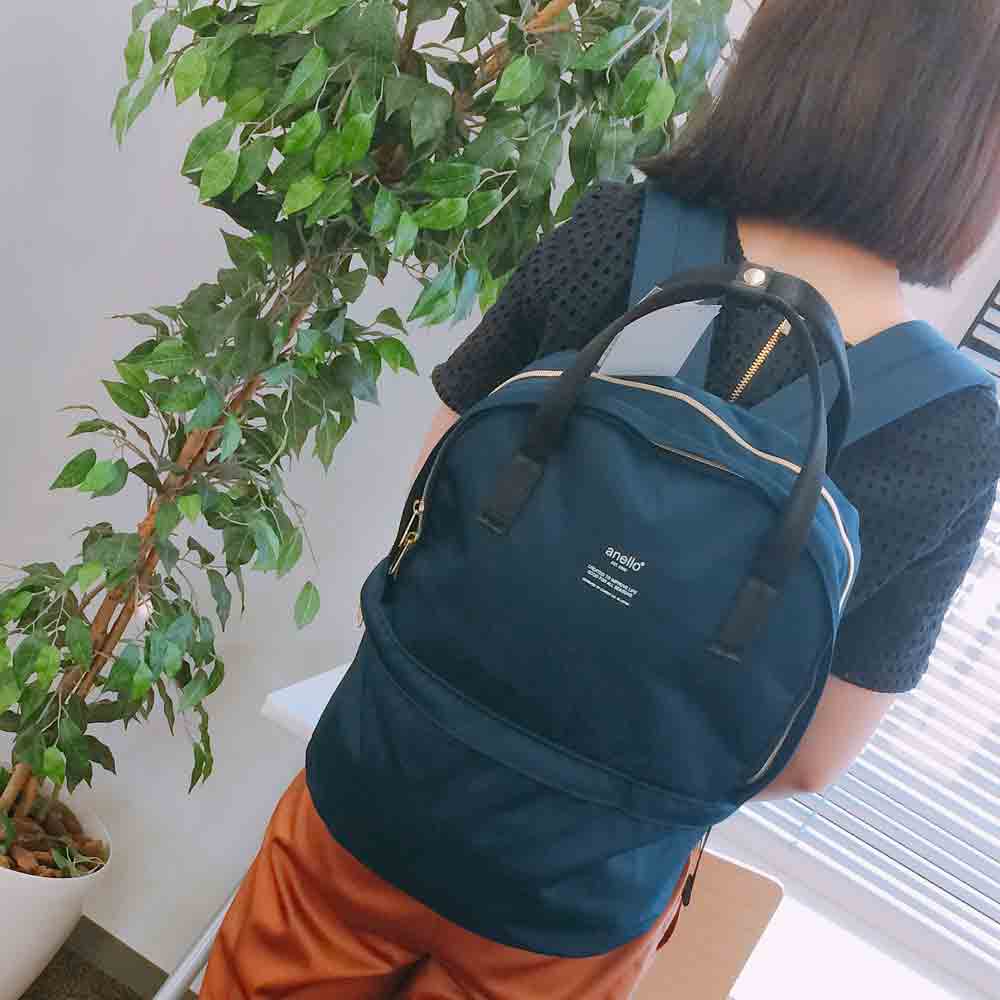 This one is unlike traditional bags. The anello's logo is printed on the body. It became pretty simple look.
I guess that you think "What is different from ordinary backpacks?" when you see it at first glance.
We were surprised because the convenience was evolved much more than the conventional types when we touched and opened it.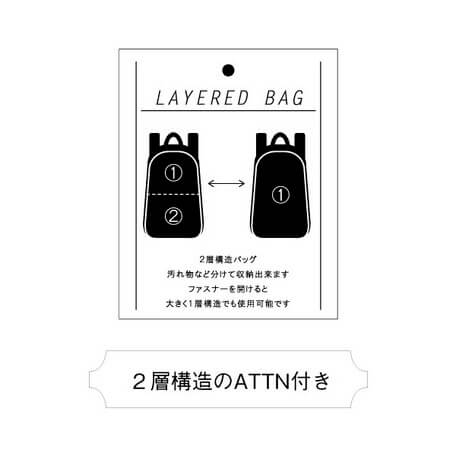 Actually, this bag is very strange structure, it has two-layer structure like this image above.
There were not many such bags until now, did you?
It is very useful when you put separately the used clothes during the travel, or when you want to put foods and other items that are not.
Besides, since the zipper is attached to the middle part, switching between 1 layer and 2 layers is very easy. Switching easily is convenient for our activity. Especially, for those who are busy. I think that we cannot readily see such a bag.
It also suits for man because the design is very simple and smart.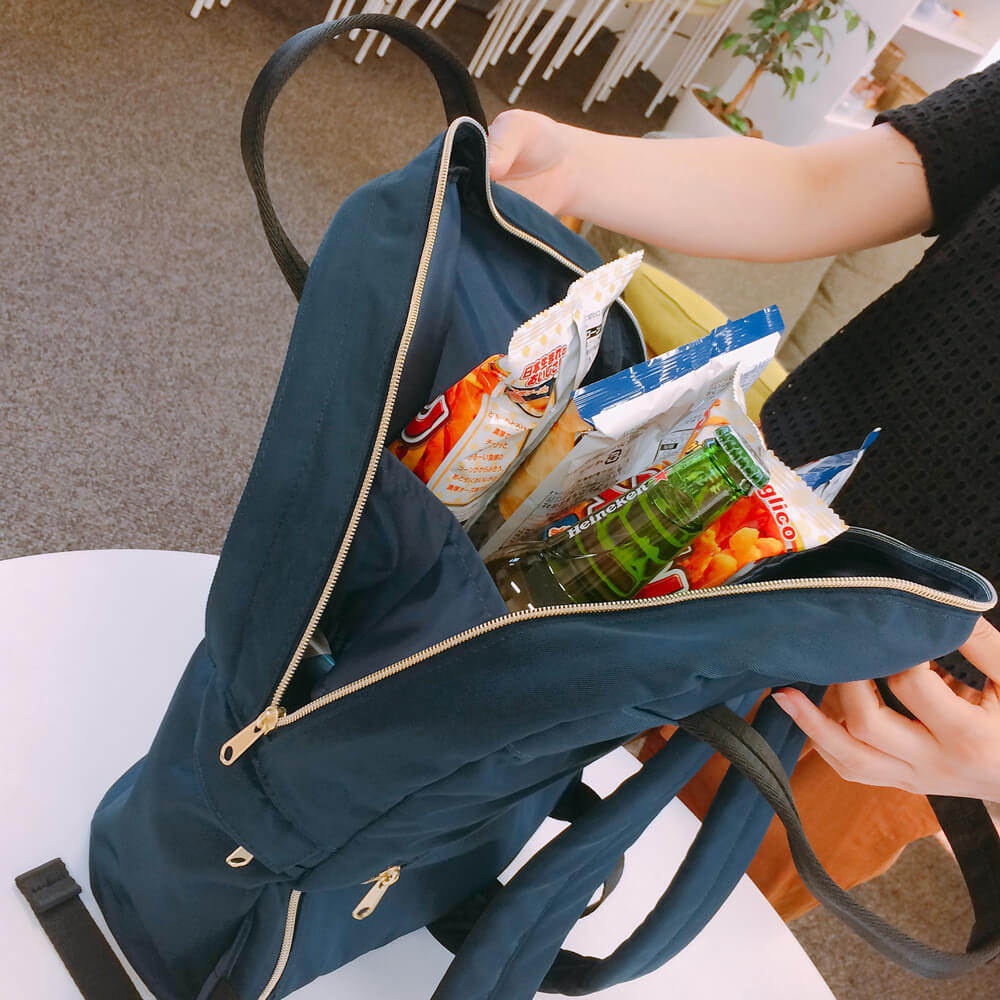 In addition, the capacity is very large, so we could pack the sweets so much. It seems to be a big role even when baggage is bulky such as picnics.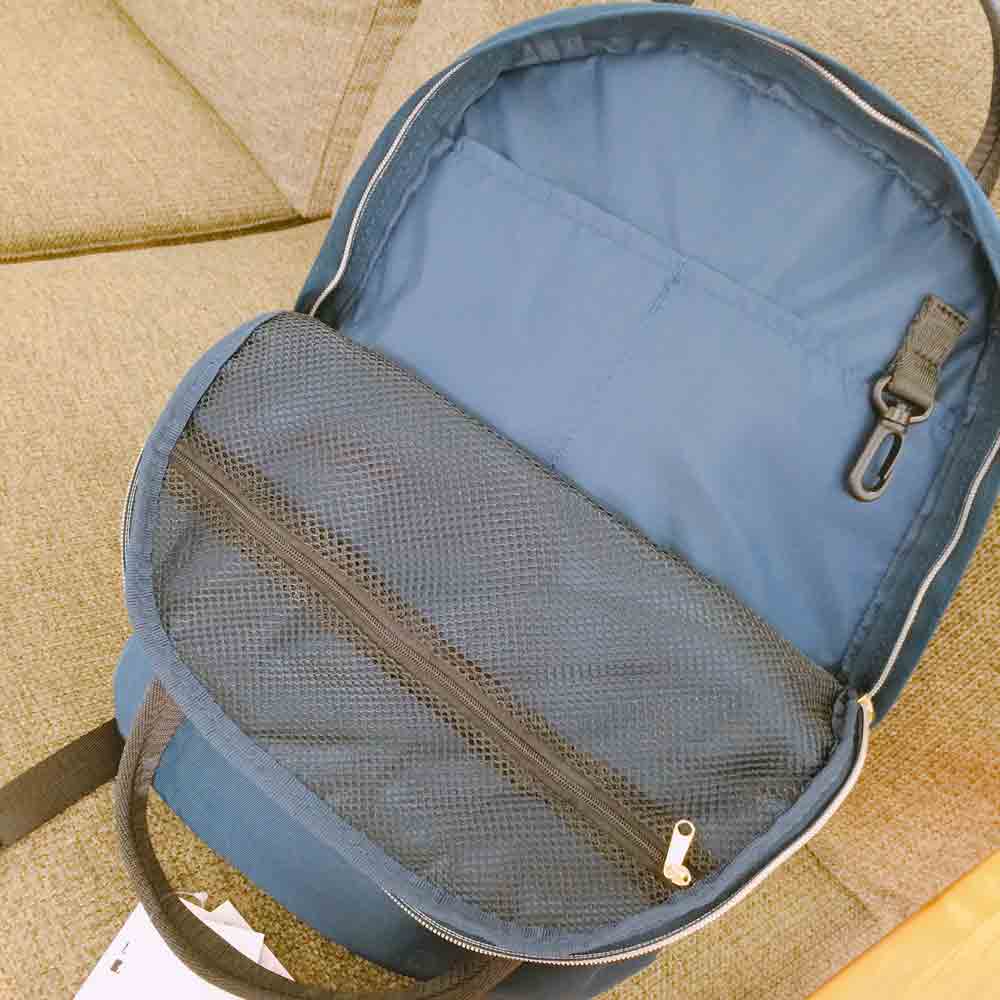 Furthermore, when opening the front part, a layer of mesh fabric appears. When storing a number of small items such as memos and pens, it has a structure that is not bulky.
Since it also has some big pockets, it is easy to put a smartphone.
You can also prevent stuffy odor by putting moisture such as toiletries in such places which has good breathability.
Organizing in the bag is unexpectedly difficult. However, the storability like this is very convenient. There is no need to dare to buy a travel pouch.
Personally I thought that it was the most convenient one among the bag I saw this year! It is a very attractive bag for me who often travel. A strict member who has a good judge of items also said "I really want it!"
High Density Nylon Logo Print Messenger Bag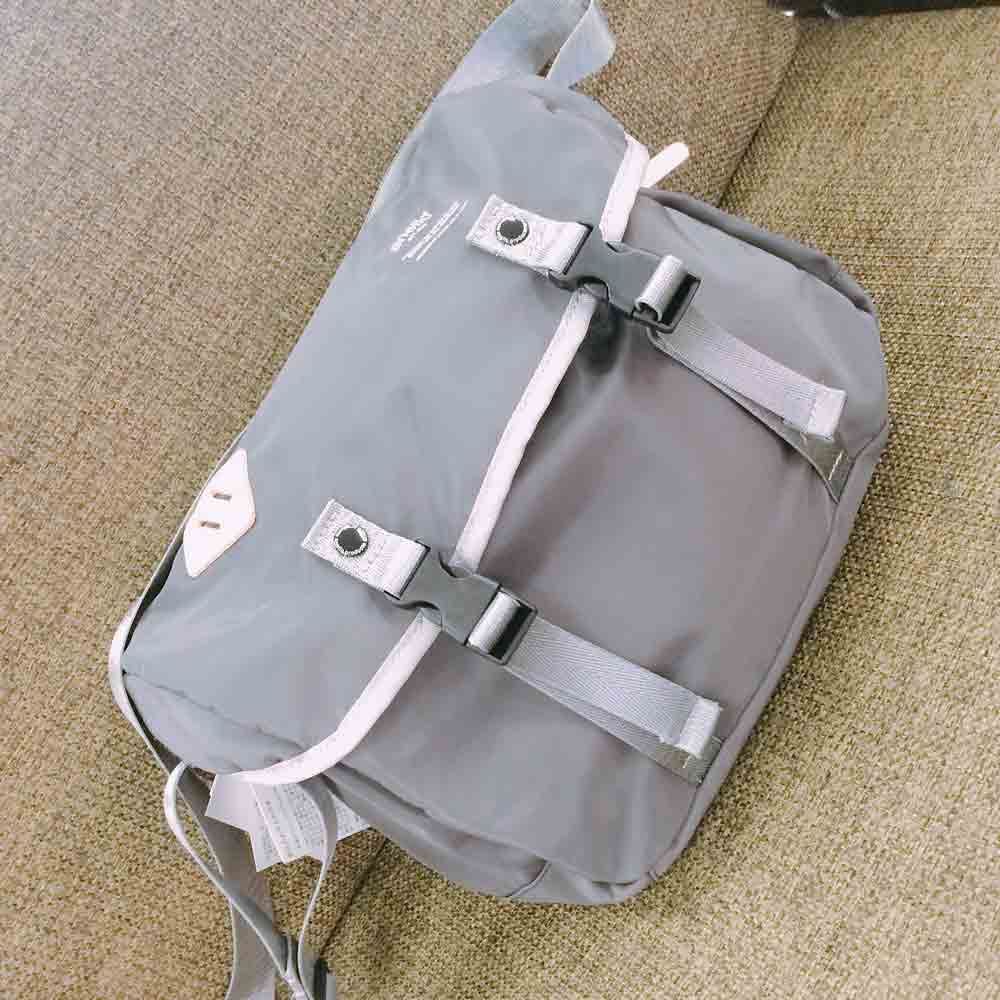 The weight is light, and the size is not too small. iPad can also be stored. It looks very good for light outings.
It is difficult to tell by photograph, but the fabric texture is very smooth and comfortable. By using "high density nylon", this feeling is realized the supple and smoothness of fine texture.
Due to its fine texture, the strength is also strong, so I think that it is suitable for daily use such as commuting, activities outside. Since the price is inexpensive, it is a bag that is very cost effective.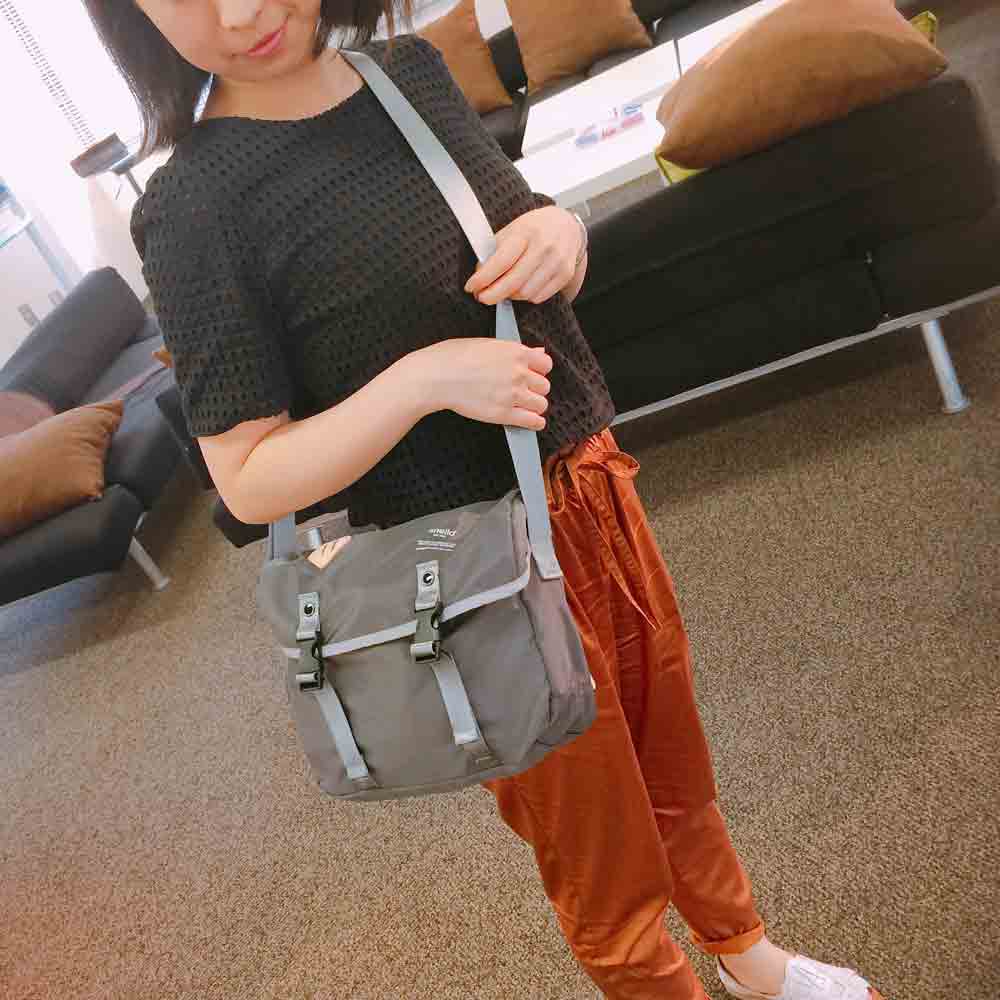 Apparently, there are some people who care like this "Since everybody has the same design, I am embarrassed having anello..."
However, we do not recognized whether it is anello or not when we looked it at glance. I guess that what the recent line's logo has become smaller is for those.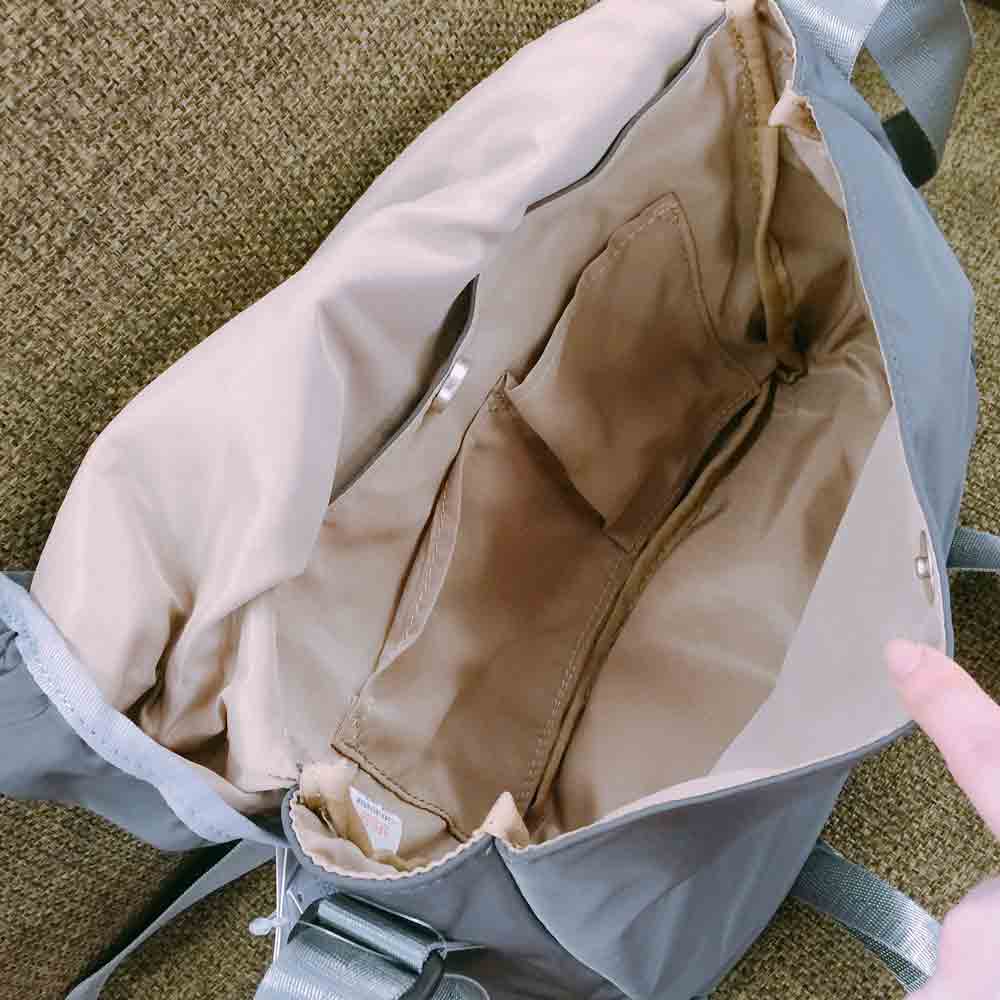 Actually, it seems to be small, but quite a thing can be stored. PET bottles can also be done vertically.
Since the strength of anello is "storage", it is appreciated for those who often carry luggage a lot daily like me.
Poly-canvas, Gold Bracket with 3D Pocket Day Pack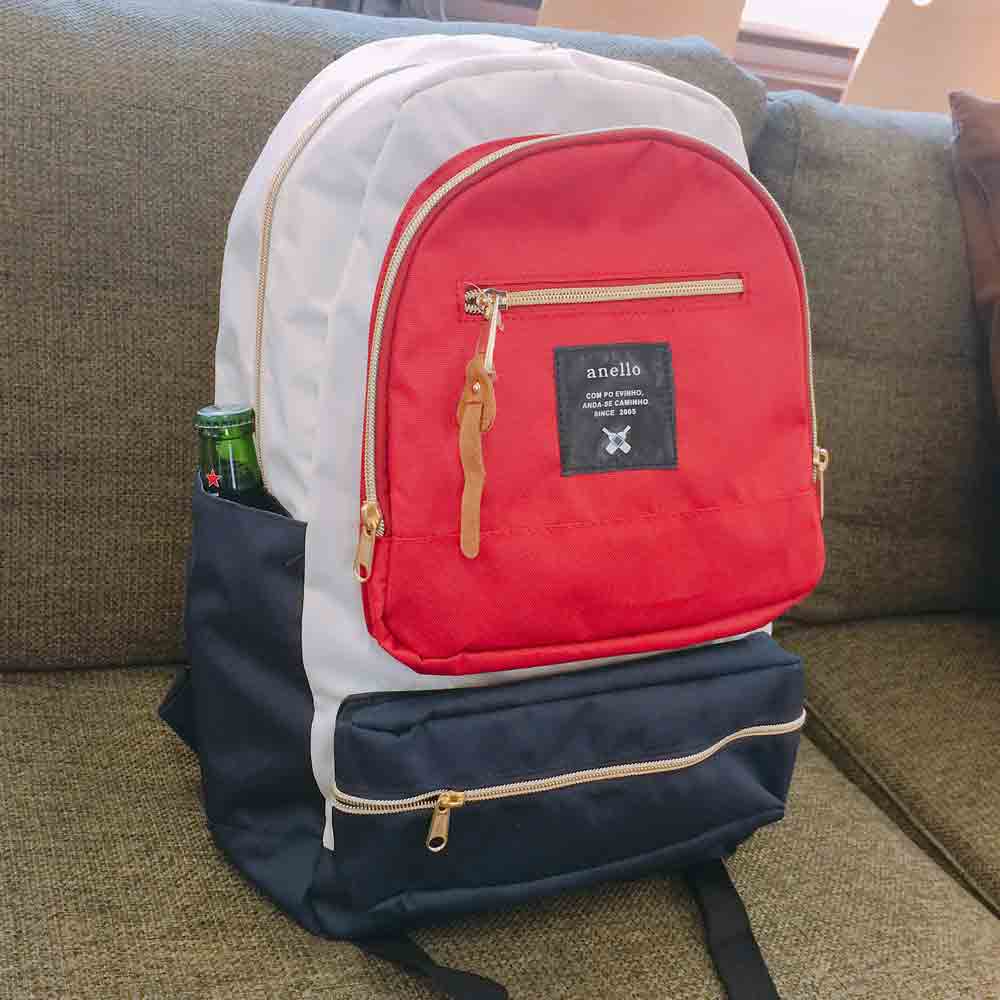 This backpack has just many pockets, adorable design. A standing figure is also cute.
Although the entire figure is smaller than I expected, in fact, it has quite a capacity.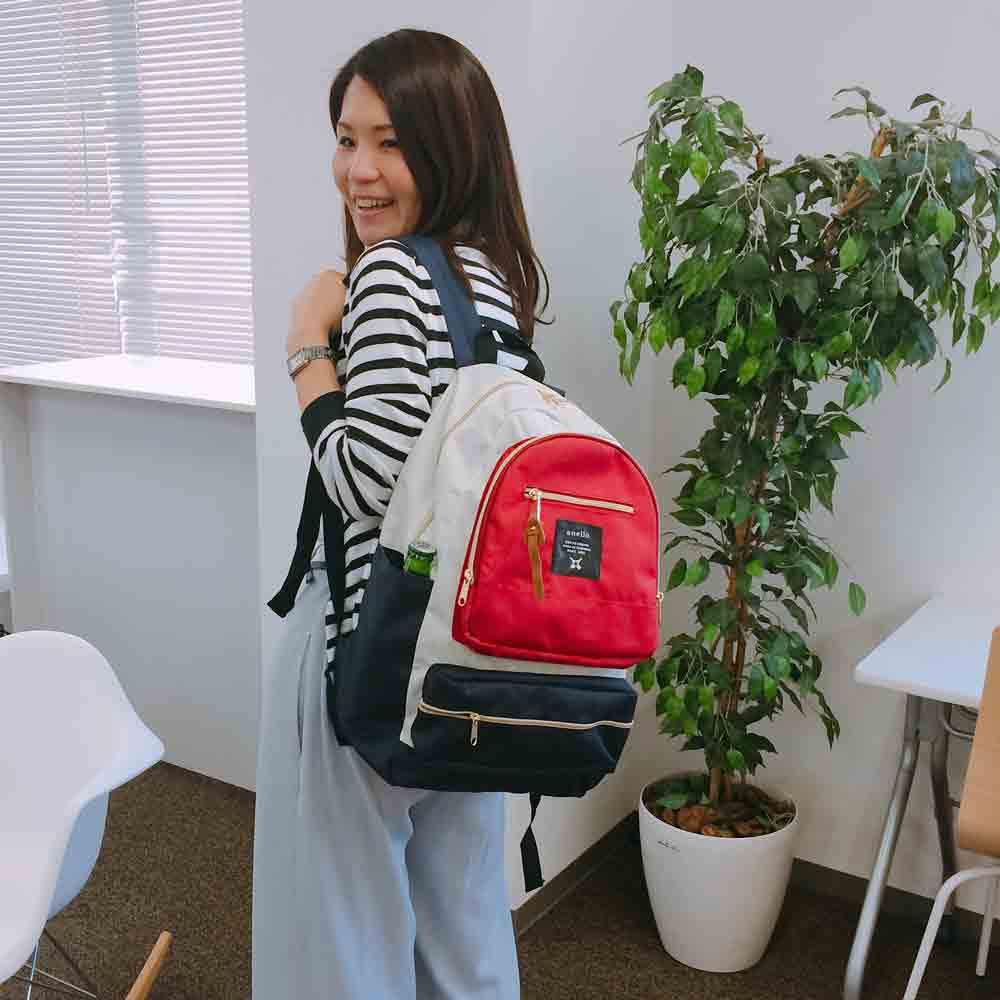 Since there are so many pockets, it is recommended for those bring a lots of small item when you go out.
Both sides also have two pockets, so you can put both PET bottles and folding umbrellas in both. It would be perfect when it is rainy.
Although the side pocket is attached to a full-scale outdoor backpacks, it is rare to have such a casual backpack.
I have bring many item and have to search anything in my bag, so it is very nice to organize easily if the storage pocket is attached finely from the begin like this.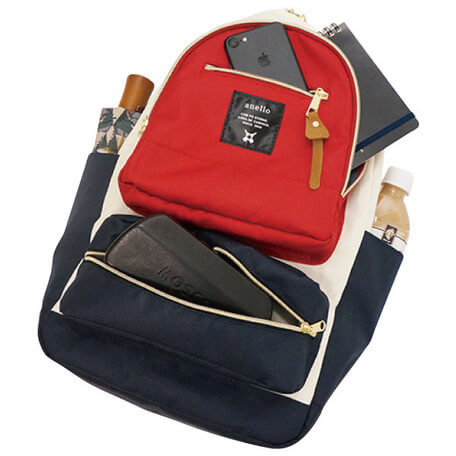 Like this when opening the red front. It is just good to put things and take out the items such as train cards and memo pads.
Opening the small pocket on the bottom is a little, but there is small space. It is enough for storing small sweets and accessories.
>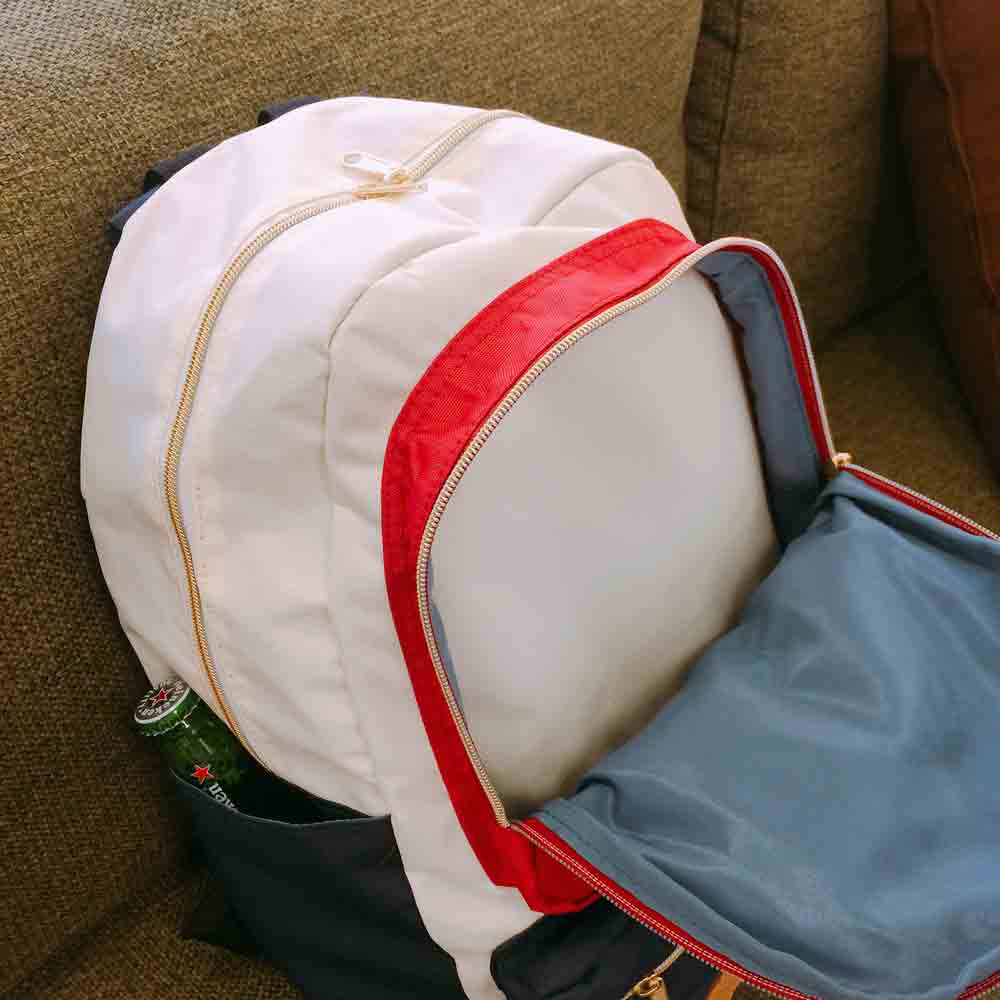 Let's open the main inside! There are also several pockets inside, so it's nice to put iPad and laptop in.
It is smaller than the first backpack, so I guess that it would be useful for a short trip around 2 nights.
Real or Fake?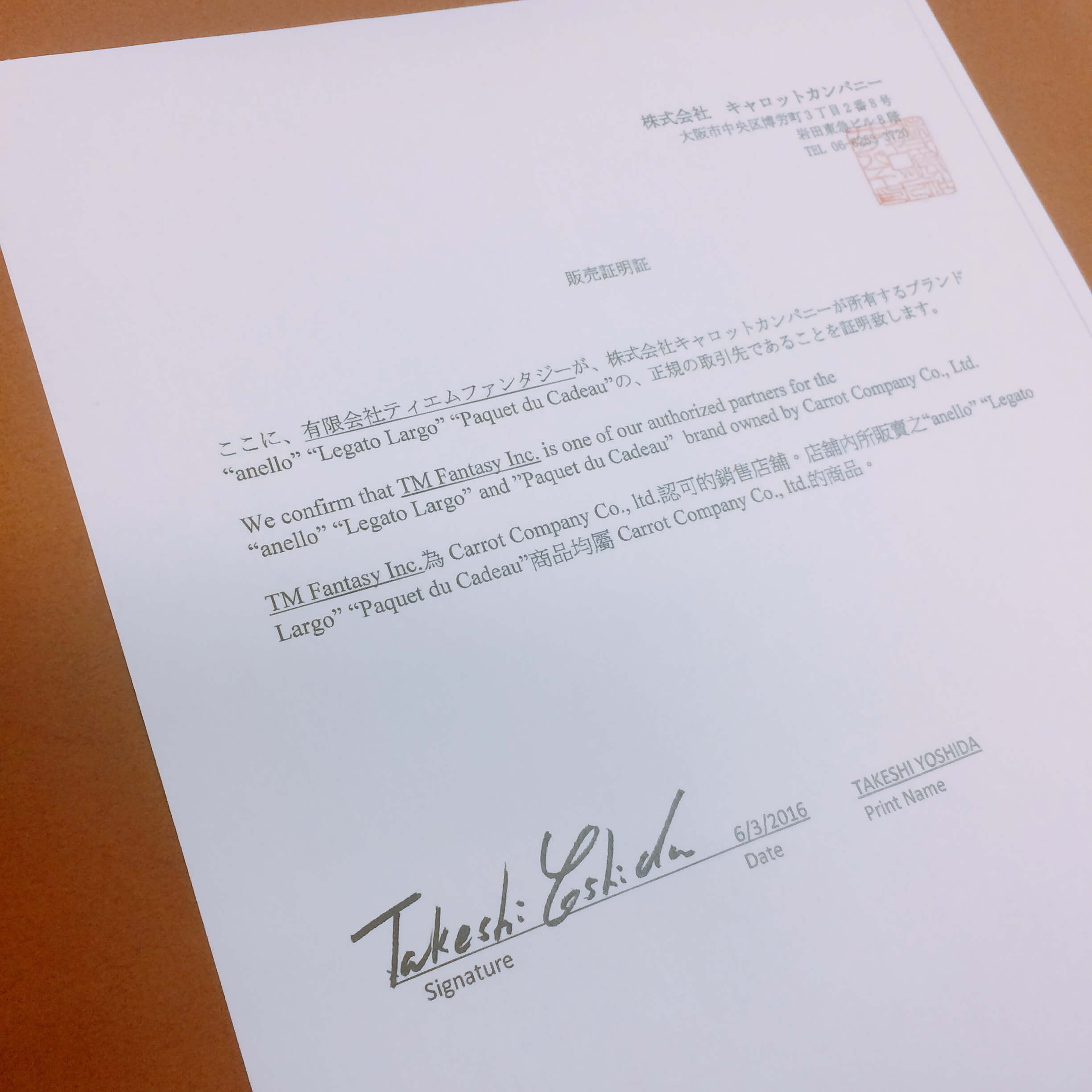 Since anello's products are so popular, many counterfeit ones are also circulating. Hence, we are often asked "Do you handle real ones?" We have strictly screened the exhibiting suppliers when they start to join our market. So please be relieved.
If you wish, we can also send a certificate. Please do not hesitate to contact the exhibitor or us if you need it.
Finally
How did you feel the recent anello?
What is common in popular items is "storage". I guess that this is the most strength point which is critical difference between the other bag brands.
In addition, what is common to the latest line are "not identical with the other people" and "simple and smart design".
I think that the point which makes it easier for people think "I want it, but the design is distinctive and the identical with the other persons. Thus, I feel a bit embarrassing" to carry on the back is big change. I guess that the future of anello fans will continue to expand like this.
anello who has such a brand concept "We will make better things as time grows like grow rings" will develop the convenience bags which would enhance the efficiency of our lives in the future.
I think that it is really useful for those who like outdoor, people with a lot of movement, and moms who often act with children. Please check out anello from now on too by all means!
Sample provider
:
BOBA(TM Fantasy Inc.)
A wholesaler of Bag who have handled a wide range of Japanese popular brands in SUPER DELIVERY since 2012. They are authorized by the popular bag brands such as Carrot company producing the brands including anello, legato largo, and TURNOVER producing mis zapatos.
What's SUPER DELIVERY?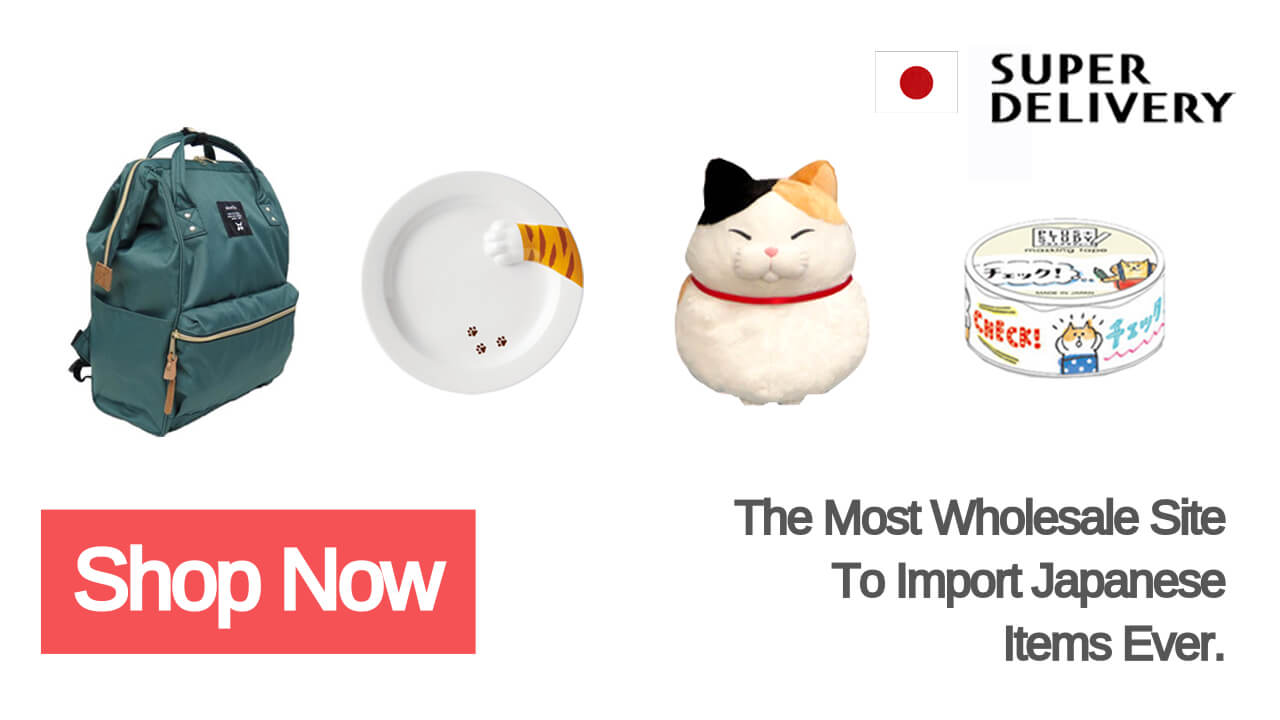 SUPER DELIVERY is a Japanese largest wholesale e-market place. Import high quality and design products from Japan shortly!
Sign Up Here