Hello! It's Mami! You would like to put on clothes that you can let your important baby wear with peace of mind, wouldn't you? However, it is hard to find out what kind of such baby's brands...
Then, we asked the person in charge of baby category of SUPER DELIVERY about some apparel brands of Made in Japan recommended for baby!
Brand We Can Recommend For New Born Baby
White Chapel Co.,Ltd
White Chapel Co.,Ltd based in Tokyo develops a baby apparel brand made in Japan called "Bijoux & Bee".
The brand is also handled in major Japanese department stores. The feature is the high design sense which that complement the cuteness of the baby and high quality.
It is a very popular brand among moms who want to give fashion for babies, as well as being taken up in Japanese magazines well.
The demand as a baby gift is high, so it is highly evaluated as a gift for friends with babies. I think that such cute design and that products made in Japan like this brand are not readily available. If I have a baby, I'm pretty glad to be given it from my friend.
It is very adorable when you try to dress these on baby on an anniversary, birthday, and happy memories would be remained! The cute design of white chapel would be a big success as such a costume for a special day.
<<< See White Chapel's Items >>>
POMPKINS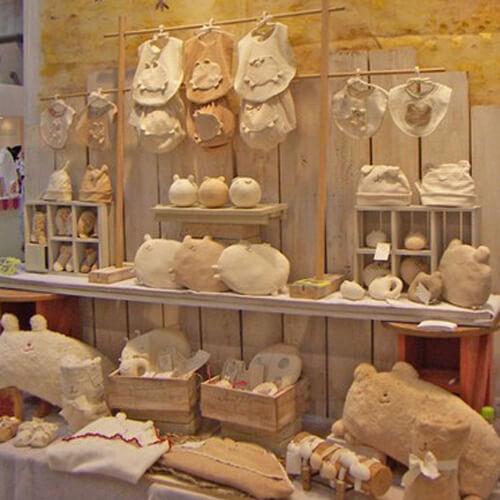 POMPKINS is a manufacturer based in Tokyo mainly dealing with clothing accessories such as baby goods and shoes using organic cotton. The products seem to have the atmosphere which is easy to feel the nature from the looks!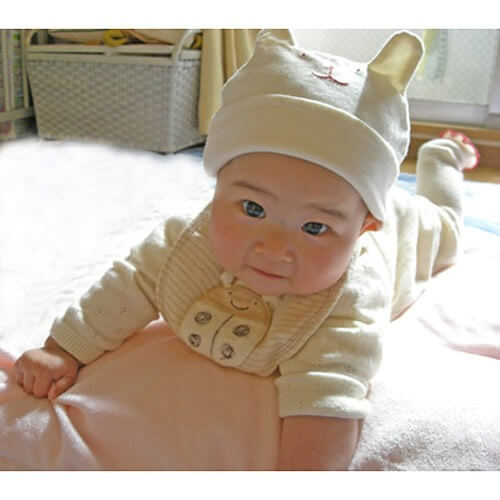 In particular, POMPKINS ORGANIC deals with baby goods which are friendly to the baby and the earth using organic cotton without organic pesticide. They do not dye the fabric, they use colored original cotton. You would like to wrap babies with delicate skin with it, wouldn't you?
POPKINS also has a socks series which shaped popular animals. By just wearing feet, the baby's legs are very cute with animals! POPKINS socks are very popular even among the babies of Japanese famous models.
<<< See POMPKINS's Items >>>
Maruju Co.,ltd.
Marujyu is a fabric manufacturer based on a factory located in Nagoya City, Aichi Prefecture, for over 90 years since its establishment. Originally, although it is a manufacturer of bed, so they put strengths on fabric production, baby brands are also under development.
They also acquired Ecotex, an international certification standard. Particularly, their products meet the criteria of stringent product classification "1". Product classification "1" is a standard assuming that babies with sensitive skin and including everything in their mouth can also be used with confidence. I think that it can be used with considerable peace of mind.
What is Ecotex?
It aims to eliminate the influence of fraternity substances on people of textile products. It is a worldwide unified test certification system applied to raw materials, unproductions and final products at all processing stages of textiles.
The gauze from their brand, Fabric plus, get softer as you wash it. You can enjoy not only safe but also easy texture.
If there are the persons who are preparing for childbirth or have babies, I would like to give it soon! It is recommended for those who are considering what is long and safe to use!
<<< See Marujyu's Items >>>
MON-SEUIL
MON-SEUIL is a manufacturer that develops stuffed toys, bags, pouches, miscellaneous goods of their original characters mainly based in Tokyo.
Especially, anano-cafe is a popular brand imagined "a relaxing moment with an opened cafe with soft sun of spring".
They have many baby products made in Japan with tender atmosphere.
There are also gift sets which you can give easily like these! The gift wrapping itself is very cute! I definitely would like to give such a present if my baby is born to a friend!
<<< See MON-SEUIL's Items >>>
Wave
Wave is a manufacturer of baby goods such as miscellaneous goods with refreshing sea-like taste in Nagoya city, Aichi prefecture.
They have produced products under the motto of making good things which can be used for a long time using traditional techniques and craftsmen's techniques at their own factory which has continued over 70 years.
Like this, you can use it safely even for sensitive babies skin.
<<< See Wave's Items >>>
DADWAY, INC.
D BY DADWAY is a design label focusing on textiles born from DADWAY which has introduced child-rearing supplies from all over the world.
These products is made in Japan which the baby's skin is thought well, and I think it is fashionable brands which can keep cleanliness of baby with refreshing textiles!
<<< See D BY DADWAY Items >>>
Finally
What do you think about the baby clothing brands? Baby's time is a very important time in human's life, and the influence baby received at that time is very big. How will you spend that important time for baby?
In my point of view, I would like to use something safe and good for the circumstance around baby, and cheer to grow up well!
SUPER DELIVERY also have the other baby apparels in made in Japan more. Please check them this opportunity!
<<< See More Made in Japan Baby Apparel Brands >>>