Hello, today, I found very beautiful and sophisticated Japanese traditional items, so I will introduce about the Hakone parquetry!
What's Hakone Parquetry?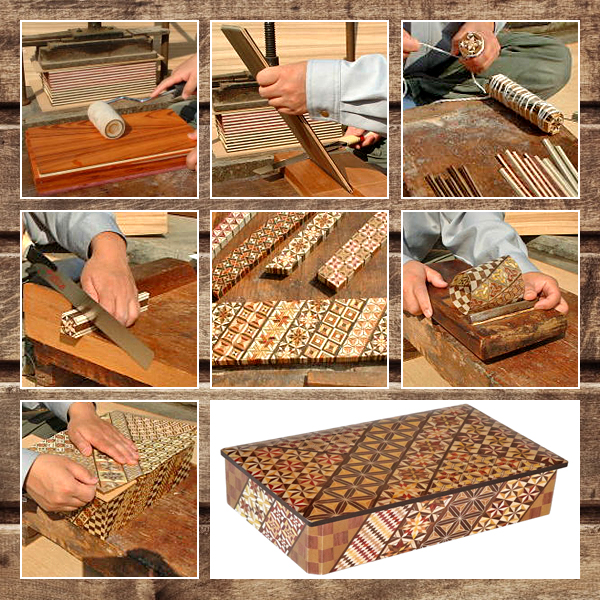 Traditional handicrafts from Hakone with about 200 years of history. This work is made by putting together wood from natural trees with rich colors and grain, making a fine geometric pattern, then shaving the surface thinly.
This work was designated as "Traditional handicrafts" in 1984.
"Traditional handicrafts" is designated by the Minister of Economy, Trade and Industry under strict conditions based on the traditional products law like below.
1.We are mainly used in everyday life
2.Main parts of manufacturing process are handmade
3.We are prepared by traditional technique or technique
4.Raw materials which have been used traditionally
5.We form production center in constant area
Source: Japan Traditional Crafts Aoyama Square
Craftmanship (Movie)
The process of using a wood plane and thinly scraping the wood truly shows the craftsmanship. The manufacturing process to change a bundle of wood until it becomes a single creation is simply beautiful. This is a very complicated technique, often said to take at least ten years to master.
Attractive Points
There are 3 attractive points of Hakone parquetry below. You can feel the gentleness and classy from it.
1. Smooth texture
The smooth texture of the grain feels nice to the touch. The joint is attached so tightly that you can hardly feel the bump in the joint.
2. Unique geometric pattern
The geometric pattern is born from combining wood of various colours. It gives you mysterious feeling, that such exquisiteness cannot possibly be made by human hands.
3. Gentleness natural color
While it is colorful, it is expressed entirely only using the woods' colors. It is made without dyes, only using environmentally friendly materials.
Check Point!
What do you think of that? Parquetry is made using special techniques cultivated over many years, it is already considered a work of art.
I believe that you can feel the handmade techniques and the gentleness of real wood with your own skin.
Available to get "Hakone Parquetry" from here
Available to get "Other Japanese Traditional crafts" from here