Hello, this is Mami. How did you spend the end / beginning of 2017? I went out in order to purchase sale items. Since many shops sell the unique lucky-bags, the Japanese sale of the end / beginning are very exciting. Many YOUTUBERs also uploaded the lucky-bag! If you have time, how about watching?
Today, I will show you the bestseller of SUPER DELIVERY in 2016. What kind of things were ranked? We summarized by popular category such as Plates & Utensils/Kitchen Products, Stationery & Craft, Interior Accessories, Bags & Wallets, Women's Apparel, Baby and Kids Apparel. Let's check them together!
Plates & Utensils/Kitchen Products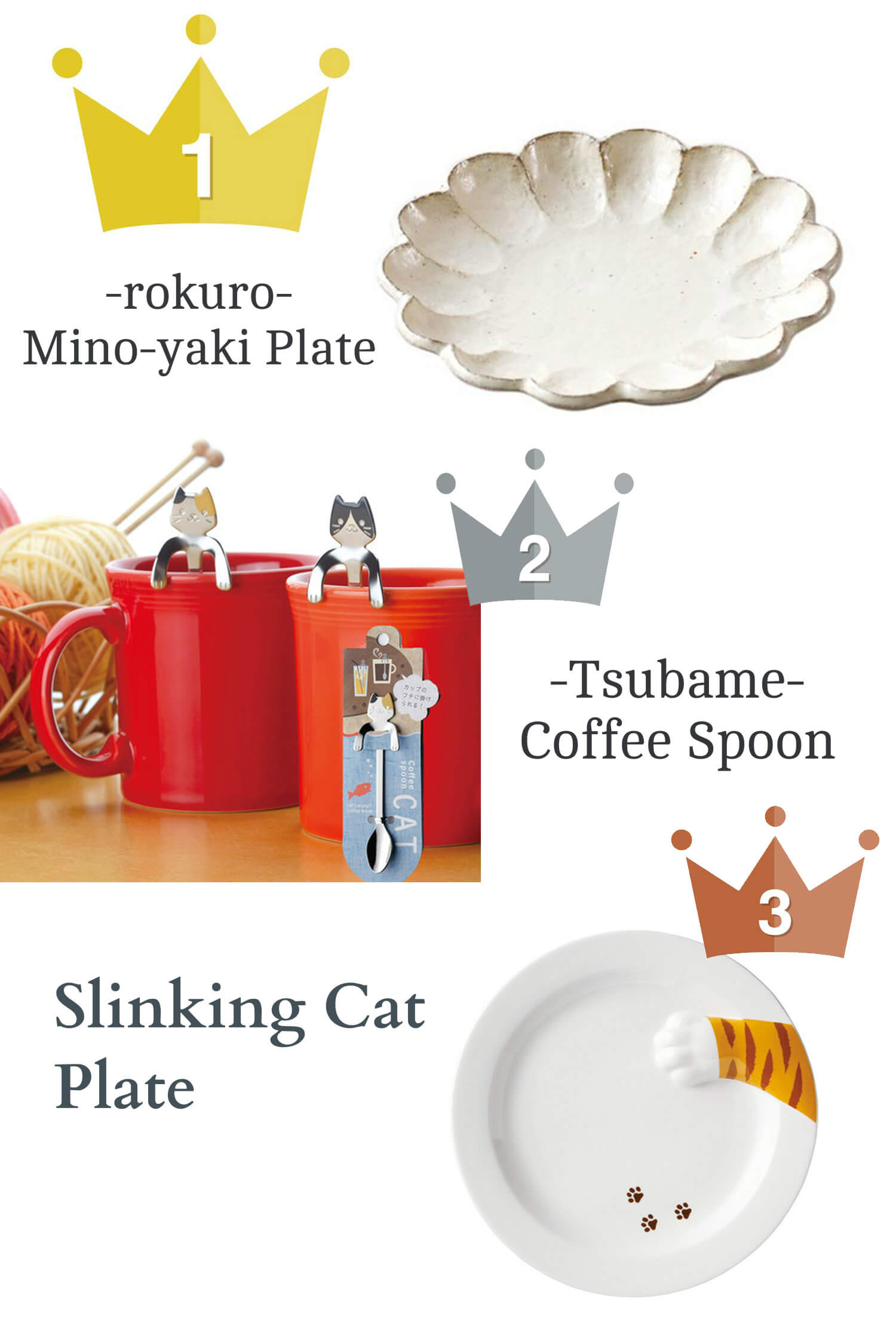 1. rokuro Mino-yaki plate
This rokuro Mino-yaki plate from Colin series by BLUT'S is the most popular kitchen item in 2016.
This pretty and antique style plate that is likely to make flowers bloom on the table. There is no water absorbency, adhesion of spots and molds is hard to adhere, it is easy to care for and a wonderful item in terms of functioning!
2. Tsubame Coffee Spoon
Tsubame Coffee Spoon is a convenient and cute one that you do not need a spoon plate by hooking on the cup. It was made in "Tsubame City" in Japan, boasting world-class cutlery and metal polishing technology. It is also an item pursuing quality, not to mention the cuteness and convenient appearance.
3. Slinking Cat Plate
The very cute plate, Slinking Cat Plate that a thief's hand aims at the food on the plate. It appeared in the 3rd place, probably due to the cat boom in recent years. This is the wonderful one that would be pleased as a gift, and those who have cats can enjoy meals together with their own cats.
Stationery & Craft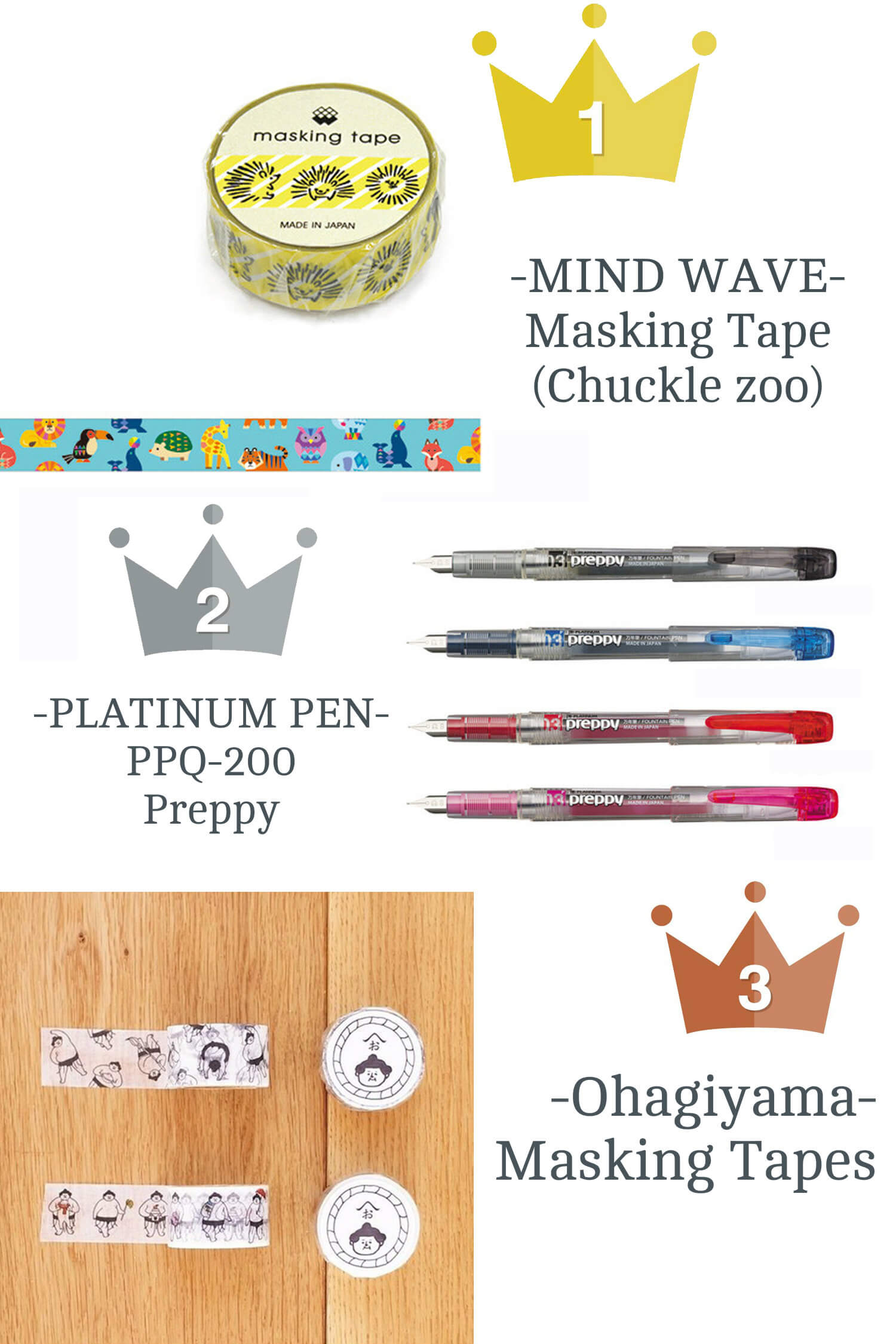 1. MIND WAVE Washi Tape (Chuckle Zoo)
Washi Tape Chuckle Zoo by MIND WAVE is the most popular one in the field of stationery. The washi tape of MIND WAVE is very popular due to the design such as animal, cute characters that is likely to relax our stress
2. PLATINUM PEN PPQ-200 Preppy
PLATINUM PEN PPQ-200 Preppy by the popular fountain pen brand, PLATINUM PEN here.
Platinum Pen released the world's first cartridge style fountain pen in 1957. It was quick and easy to care for and lead to the widespread use of fountain pens. This fountain pen brand is on a par with PILOT, Sailor is a popular around the world.
Scouce: Platinum-pen's history
3. Ohagiyama Washi Tape
Ohagiyama Washi Tape by nombre. He is a popular sumo wrestler character in Japan, so the events are held in various places, the related books are also published.
In addition, especially, unique erasers by IWACO, Harinacs Stapleless Stapler by KOKUYO, washi
tapes and pens by Shinzi Katoh's Design were also popular.
Interior Accessories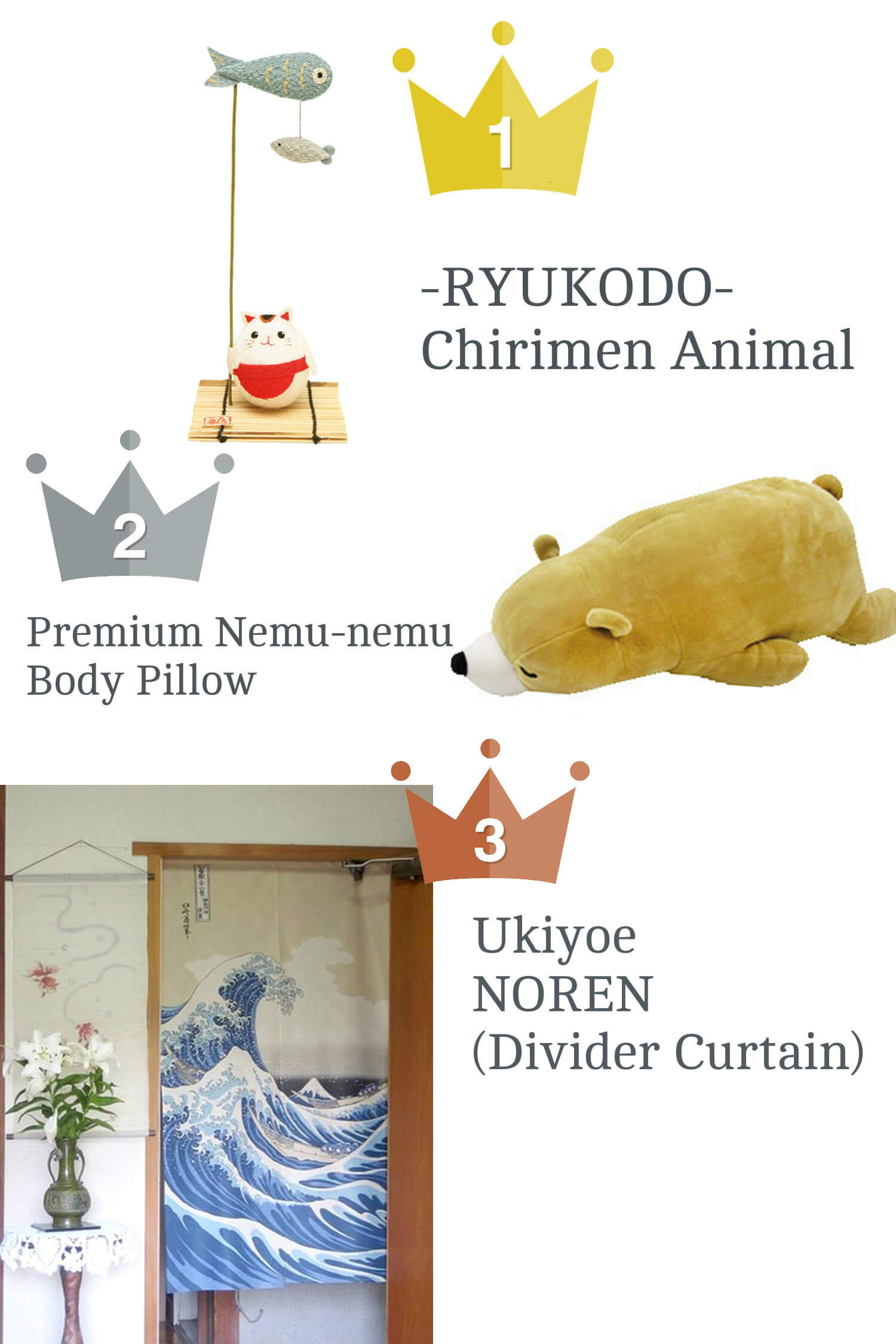 1. RYUKODO CHIRIMEN Doll
CHIRIMEN Dolls by RYUKODO. The charm of their products is the relaxed face that lets us smile unintentionally.
The other animal items including welcome cats are also popular. It would be perfect as the ornaments which can make the Japanese traditional atmosphere.
2. PREMIUM Nemu-nemu Body Pillow
PREMIUM Nemu-nemu Body Pillow by LIV HEART corporation. It has become one of the most popular item in Japan because of its velvety feel and the adorable sleeping face.
3. Ukiyoe NOREN Divider Curtain
Ukiyoe NOREN(Divider Curtain) by NARUMI. By putting it, you can make the traditional Japanese space.
Bags & Wallets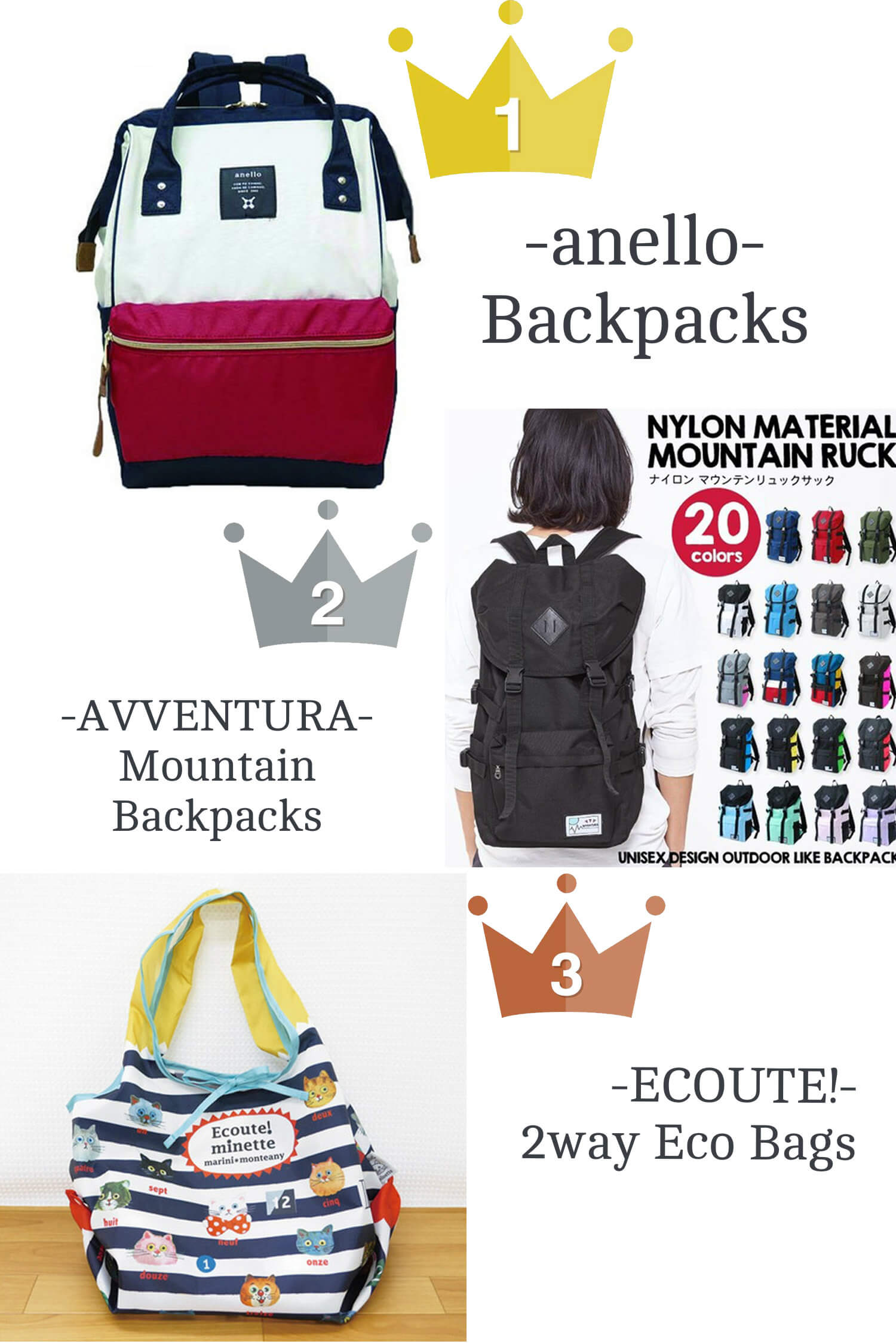 1. anello backpacks
anello's bags are very popular all over the world. Especially, this type is popular model. New types have continued to appeare from now on too, please keep checking "anello"!
2. AVVENTURA Mountain Backpacks
Mountain Backpacks by AVVENTURA here. Totally, 138,317 pieces were sold so far. This brand is manufactured by the bag manufacturer, ACT. The reason of popularity is the affordable price and simple design!
3. ECOUTE! 2way Eco bag
This Eco bag was produced by ECOUTE!. ECOUTE! is the knick knack brand for kids by Tomohiro Noda and Shinozaki Mayu work as a couple. Noda plans the animals, Shinozaki draws children. They conduct brand design, "ecoute!" including the book of illustrations, picture books, and household goods such as kitchenware and towels.
Women's Apparel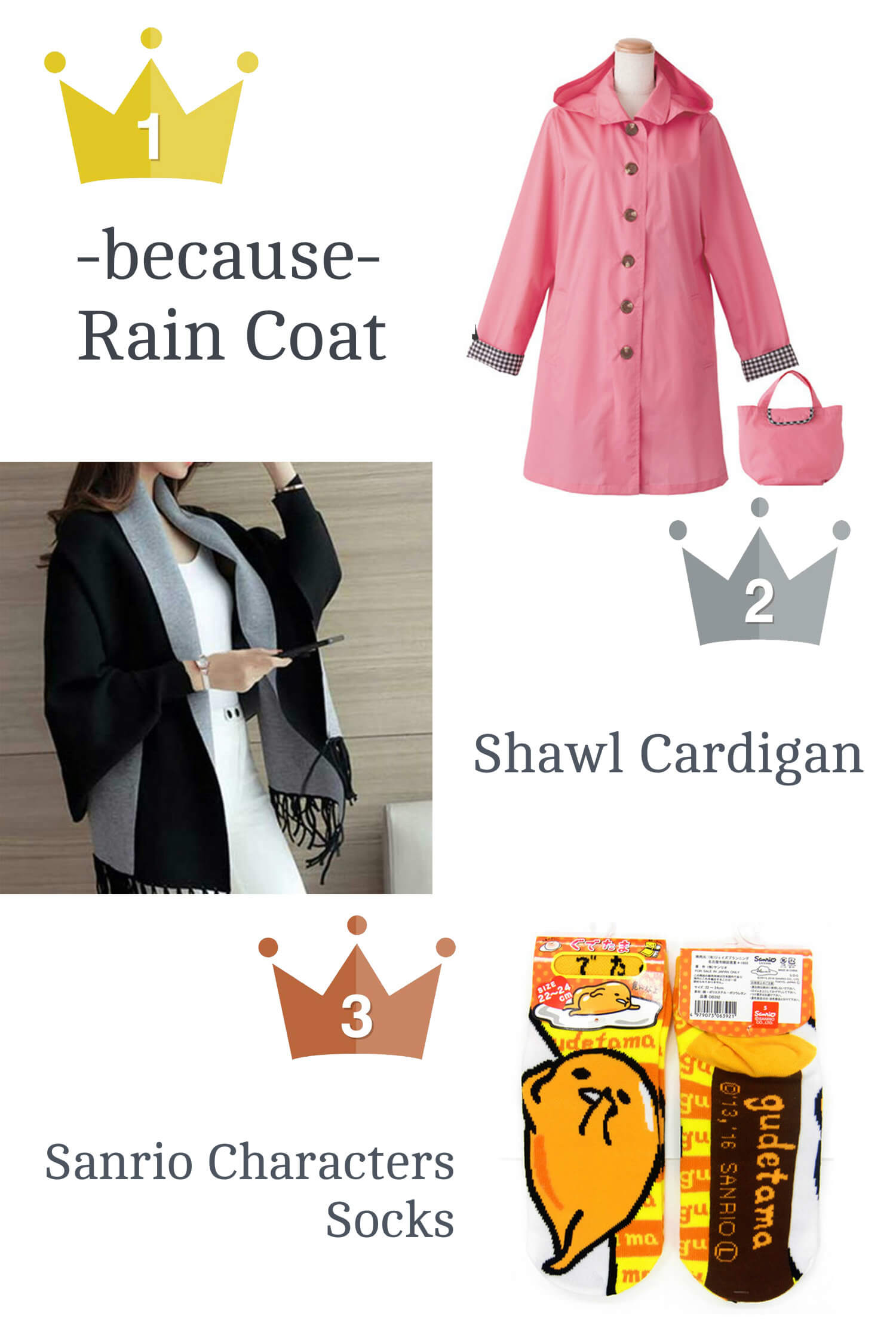 1. Rain Coat by BECAUSE
Simple Rain Coat. The manufacturer, BECAUSE CO.,LTD has specialized in rain items. Based on the concept "Enjoy Fashion even on rainy days", they supply fashionable rain items.
2. Shawl Cardigan
2016's trend, Shawl Cardigan by RISE. It is stylish and practical wearing one wearing. By just wearing this one, you can make eye-catching attention.
3. Sanrio Characters Socks
Sanrio Characters Socks by the socks manufacturer, MAXIM Co.,Ltd.. The one for kids are also sold, please check if you have interest.
Baby and Kids Apparel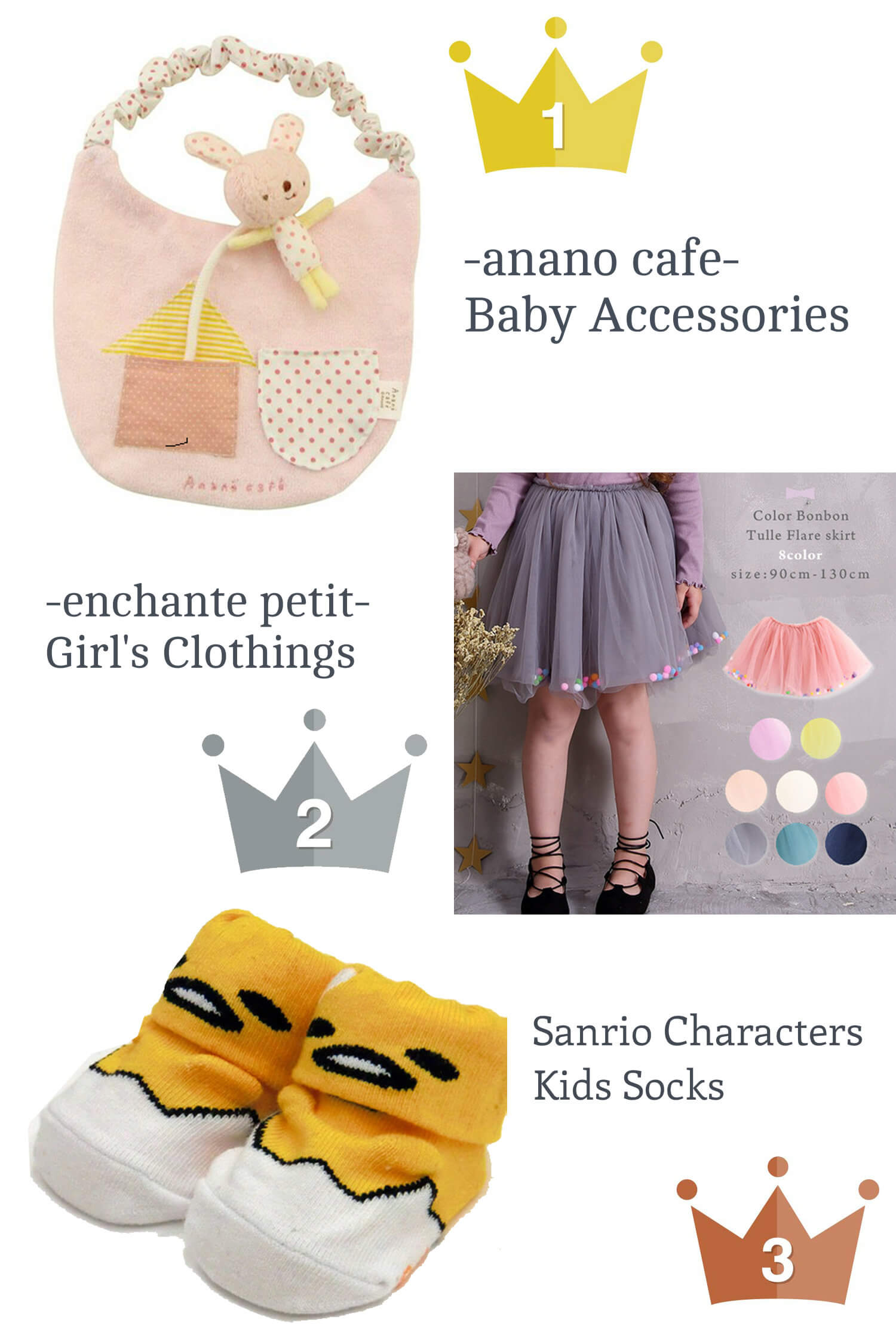 1. anano cafe, baby accessories
Baby accessories by anano cafe. Enhanced gifts for young children! Since most of the products were made in Japan, it would be the good gift for mothers who are concerned about safety.
2. enchante petit
Girls clothing by enchante petit. The brand is very popular due to the fashionability and cuteness among the Japan and overseas fans.
3. Sanrio Characters Kids Socks
Sanrio Characters Kids Socks including Gudetama, Hello Kitty. As there are the same type items in the women's list above, the character items has attracted!
Summary
What do you think about this ranking? Especially, anello's bag has made the attention in 2016. In this year, what kind of things will be popular? New great items will continue to surprise us.
-------------------------------------------------------------------------------------------------------
The wholesale site used by more than 60,000 retailers worldwide SUPER DELIVERY, can be found here!